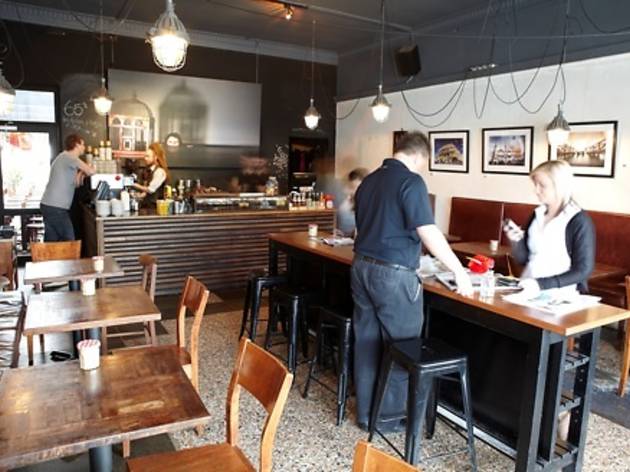 We would put our money on this Pony
Hidden amongst the drab offices and a modest strip of shops on Whitehorse Road is one great galloping gem of a café called Snow Pony.
Here is a place that you can rest assured will always treat you right. It's brought to you by the same good people of Porgie & Mr Jones in Hawthorn and, along with similar menus, the venues share the same good service and tasteful decor DNA. Check out the bottom of the weighty menu and you'll find rolling credits of all the locals who have brought the morsels on your fork to bear. Thanks goes out to organic bakery Noisette, love is showered upon meat smoker Tom Cooper, and it's big ups to egg ladies Shelley and Anne Green.
This is a calm and sleek space with just the right amount of colour contrasting the blackened and quote-toting walls in the form of bright yellow metal stools and sprigs of flora. The lines are sharp, and to distract your eyes from the slightly mundane views of Whitehorse Road, check out the food quotes scrawled about. We like "never eat more than you can't lift", even if it's a philosophy the kitchen doesn't subscribe to.
Exhibit A, the banana bread ($14.90). It's a soft marbled door wedge of sweet-savoury cake drenched in maple syrup with a crush of pistachio nuts, berries and sliced bananas riding roughshod over a mountain of mascarpone. Take a moment, if you will, to consider how you lived before trying it. Equally sitting in the big-as-your-head portions camp is the smashed avocado on sourdough ($16.90), which is backed up by a jumble of buttery roasted mushrooms, marinated feta, basil and tart tomatoes for acid cut-through. It's an undertaking, so save this brunch date for a day when time is on your side.
Saddle up, breakfast fans.
---
Venue name:
Snow Pony
Contact:
Address:
95 Whitehorse Rd
Balwyn
Melbourne
3103

Opening hours:
Mon-Fri 8am-4pm; Sat-Sun 8.30am-4pm