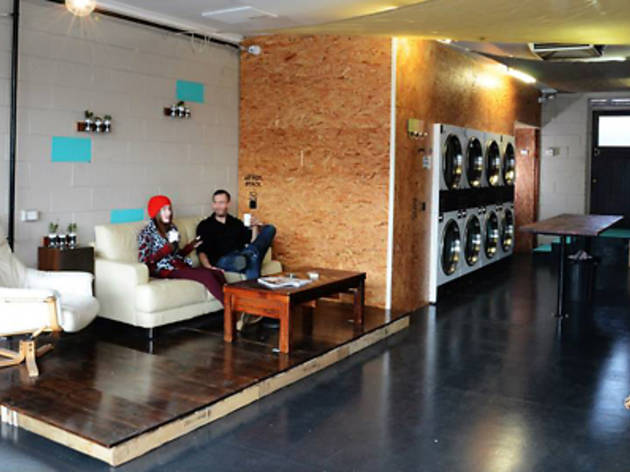 Time Out says
Laundry day just got a lot less depressing
Our experience of hanging out at the laundromat has always been drastically less filled with sexual tension and stimulating conversation than New York movies have promised. But that's about to change.
Ben Shaw and partner Constance Bernard (who used to live a few doors down from the Elgin Street Laundrette and dreamed of making it more Woody Allen, less Sunday night prison) have just taken over the space and filled it with murals, some sweet cream leather lounges and WiFi. And in the next couple of months (late September) they'll be throwing cakes and coffee into the mix.
Built almost entirely from discarded Myki machine packing crates and salvaged pipes, and promising foliage raised on the grey water, we predict this eco-conscious, café-cum-wash-shop is about to become ground zero for some blossoming romances built on a shared love of Etsy. Speaking of scenesters and lattes, why did the hipster burn his mouth on his coffee? Because he drank it before it was cool. You're welcome.
Details