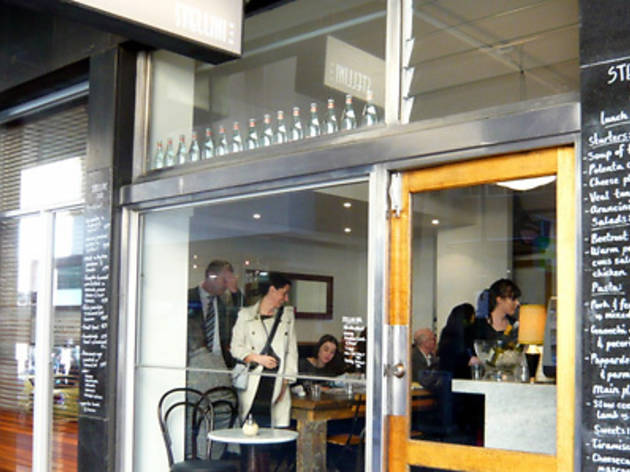 From the people who brought you The Mess Hall comes the revamped Stellini Bar
Recent renovations saw Stellini Bar grow from a tiny sliver of a place to a slightly bigger, but still intimate restaurant with a Euro-bistro feel. A communal timber table dominates the room, with smaller marble tables positioned around, and large street-facing windows that are perfect vantage points for watching chic Melburnians trot by. Bar stools face a glass cabinet full of sweets and stuffed panini for the lunchtime worker bees.
A moderately priced, Italian-focused food and wine list is a crowd pleaser. The lamb ragu with finely diced vegetables is piled on top of cheesy semolina and sprinkled with pine nuts. Tender, flavoursome meat falls apart with just a nudge of your fork: this is comfort food in all its glory. The beetroot salad, arranged in the shape of a flower, is dotted with small splodges of fetta and slippery Japanese mushrooms. Although the flavours meld beautifully, it needs more substance to work as a main salad dish. For a happy ending, make your way to the sweets cabinet. Depending on your capacity, a grainy polenta biscotti or dense choc brownie might be just the thing. Or there's tiramisu and the free-standing, snow-white panna cotta that comes with a red berry topping. It's cool, creamy and jiggles like an unsheathed bosom when prodded.
Stellini Bar is as lovely as its little sister, The Mess Hall in Bourke Street. Yes, it's small (especially the bathroom), but the food is wonderful. Stellini Bar deserves some loving.
Venue name:
Stellini Bar
Contact:
Address:
198 Little Collins St
3000

Opening hours:
7.30am-9.30pm