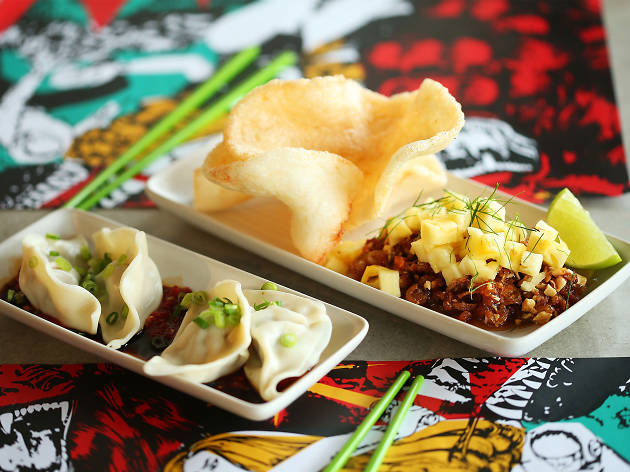 1/9
Photograph: Graham Denholm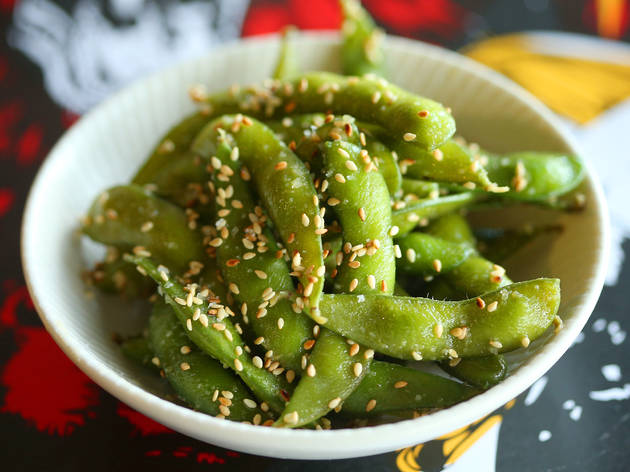 2/9
Photograph: Graham Denholm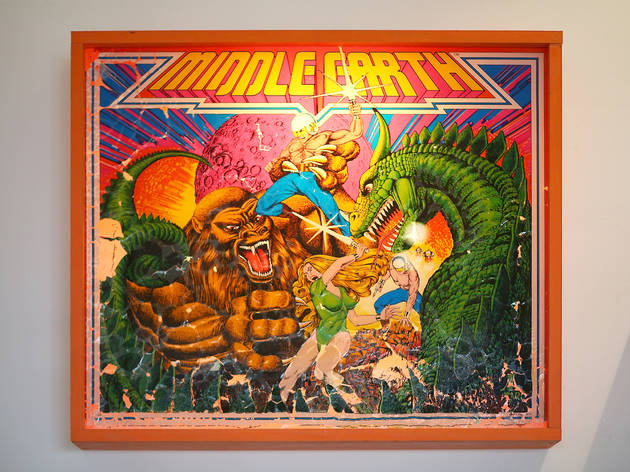 3/9
Photograph: Graham Denholm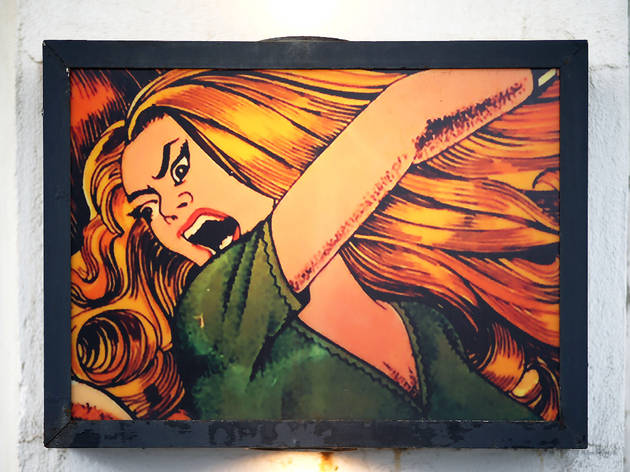 4/9
Photograph: Graham Denholm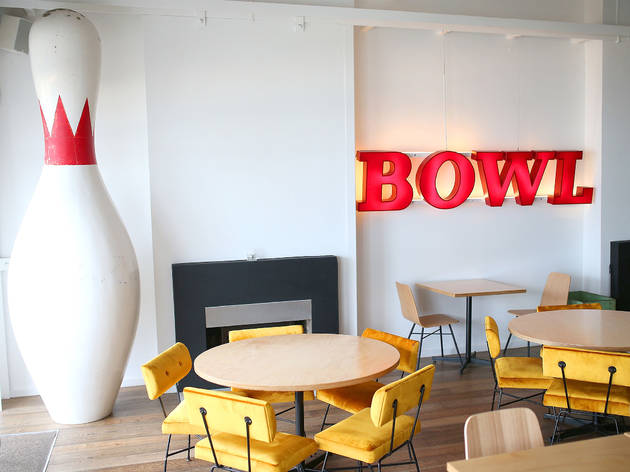 5/9
Photograph: Graham Denholm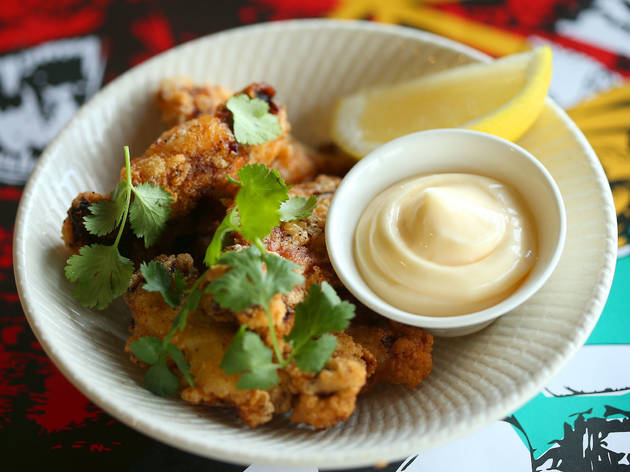 6/9
Photograph: Graham Denholm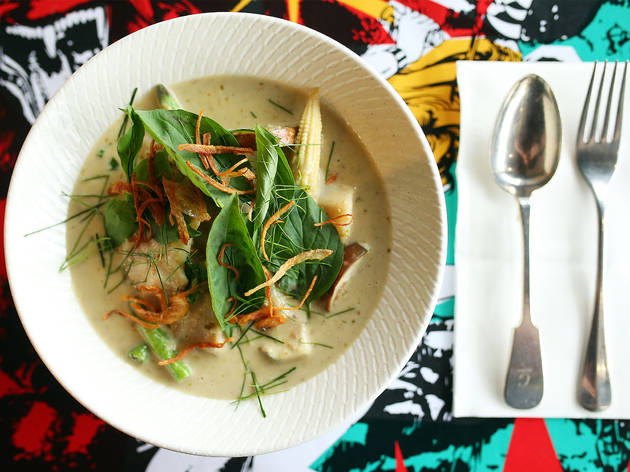 7/9
Photograph: Graham Denholm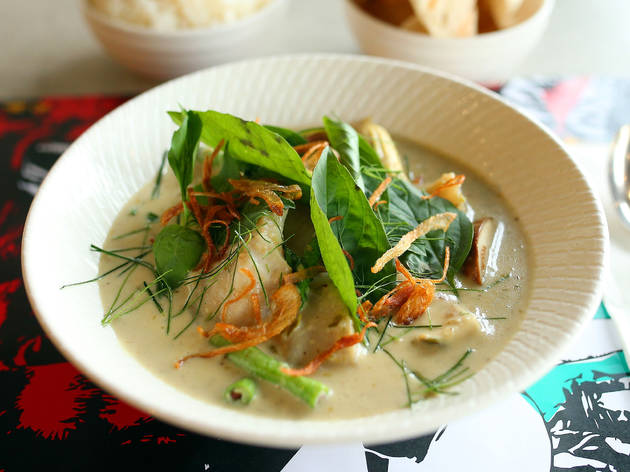 8/9
Photograph: Graham Denholm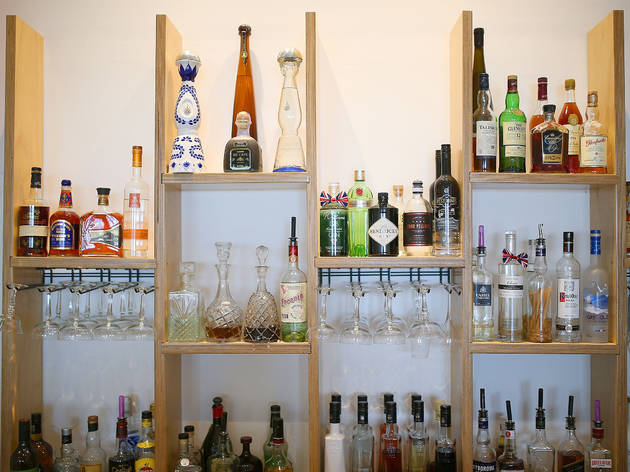 9/9
Photograph: Graham Denholm
Time Out says
Tenpin strikes one for fun food-driven times, cocktail firmly in hand
Who remembers R Bar? Once upon a time it was the preferred hangout of Melbourne's young and lovelies (southside chapter) until they all flitted off somewhere and it fell into a terrible funk. Some years later the restaurant tide has ebbed and flowed and now, in a period of renewed ebb, (or is it flowing?) the space is reborn as South-East Asian restaurant Tenpin, complete with gigantic bowling pin anchored to the balcony looking out at Station Pier. There's no connection, as far as we can tell, between the sport and the food: the bowling pin was a chance find that proved too good to pass up, and the interiors follow the eclectic brief with such clever design nous to make a coherent whole out of the golden velvet banquettes and the distressed walls with artfully placed bulb lights and the chop-socky pop artwork.
It's the kind of fit-out where the designers truly earned their keep because one look spells fun, and that's precisely the kind of place Tenpin is – a none too serious, none too formal dining barn where the drinks list has plenty of space for frivolity (the Peruvian Flake, for example – a combo of jalapeno pisco, peppered gin, citrus and coriander strong enough that it comes with its own warning).
It's the kind of place that five years ago would have been written about in breathless screeds; testament to the diaspora spilling from Melbourne's new wave of Asian joints such as Chin Chin, from whence indeed chef Ashley Richey hails.
You know the drill. No really, you do. Edamame with miso butter, and buttermilk fried chicken ribs – fat little things with plenty of meat and five spice salt and that sweet Kewpie brand mayo. Good drinking food. You'll find the oft-repeated Thai starter of a fish-saucy sticky pork and prawn with chunks of pineapple, a funky-sweet combo served here with fat prawn crackers (although the pork mixture is unappealingly fridge cold). Pork and kimchi dumplings strike a fashionable note for Korea – the black vinegar and chilli sambal lend a rich lusciousness – and a serviceable duck larb, gritty with roasted rice and very lean, heads north in the chilli stakes, which is to be commended. There's a good Thai green curry done with blue eye that makes the whole table pause to give thanks for how far Melbourne has come in its definition of Thai green curry, and a dry roti that's a pale facsimile of the rich, oily tissue-paper bread that doubles as the world's best sauce sopper.
None of the shortcomings are fatal to the cause. It just goes to show, however, that what even five years ago would have been hailed as a brilliant saviour of our bored palates is now filed as the kind of restaurant every suburb ought to have, and soon probably will. Hurrah for us.
Details
Address:
49 Beach Street
Port Melbourne
Melbourne
3207

Contact:
Opening hours:
Wed, Thu 5pm-late; Fri-Sun noon-late
Best selling Time Out Offers