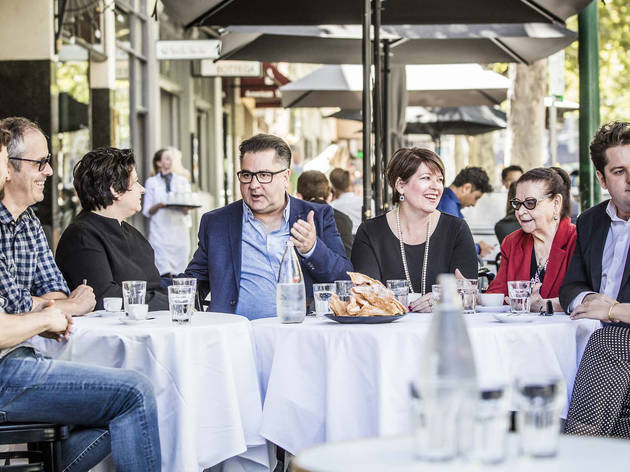 Legend Award: Time Out Food Awards 2019
This dynasty of fine Italian dining has immeasurably shaped the way Melbourne eats
Winner: The Grossi Family
Imagine a Melbourne without the Grossis. Imagine no Grossi Florentino, the fine dining pleasure palace drenched in Old World finery. Imagine no Tuscan heavyweight steaks at the Grill, or bowl of comfort at the Cellar Bar, the very same space where recently arrived immigrant Pietro Grossi had his first drink in 1960. No honouring of aperitivo hour at Ombra. No cocktails and midnight spaghetti and associated good times at Arlechin, or lunchtime pizza-pita pockets at Pezzo, or Venetian cicchetti at Merchant.
But beyond the selfish concerns of our stomachs, let's get philosophical for a minute. Had Melbourne never welcomed the Grossi name it would be a lesser city all round. The clan is so deeply enmeshed in Melbourne's restaurant DNA it would be impossible to chart all the people who have passed through their doors professionally and emerged the better for it. It would be equally impossible to gauge where diners would be, not only in our understanding of the perfect agnolotti del plin, but the very notion of Italian-hearted cooking and hospitality.
Through three generations of hard graft, not to mention some damned fine cooking and service, they've cemented their place in the city's dining history. From Pietro, who took the first punt, to his son Guy who took the second, and now the third generation keeping the dream alive (Guy's son Carlo, working the floor of Florentino with his father's charm and his own cheek, springs to mind). And that's not to forget other members of la famiglia working equally hard behind the scenes to keep the train on the tracks.
They may have shared their love with Perth as well in recent years, but we're prepared to forgive them this transgression. They'll always be ours, and they'll most certainly be legends
See all the winners
The Time Out Food Awards lets us celebrate Melbourne's champions of the restaurant scene – and throw a party to remember. Here are all the winners from the hospitality scene's night of nights.
Best selling Time Out Offers