Trailer Made: Ladies who truck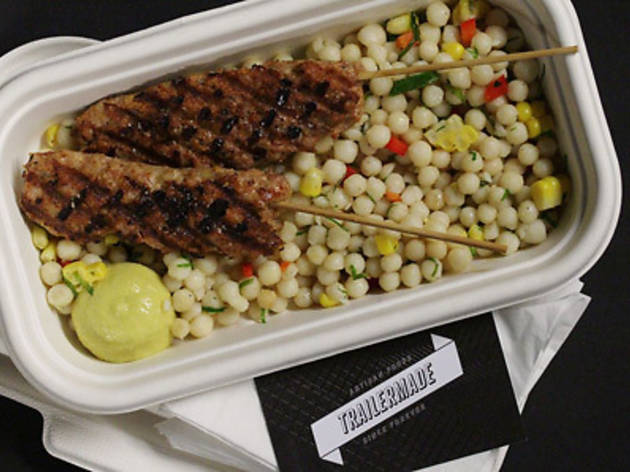 Time Out says
Some Eastern European action is coming at you Melbourne. And it's coming from the back of a wagon
Amy Roberts and Casey Norman have rolled into Brunswick East to take on the bourgeoning number of food trucks on Melbourne's north side. With former Cumulus Inc chef Casey in the tiny kitchen, be sure that this trailer is worth chasing down. We spoke to Amy, (Front of Trailer), about the decision to take their show on the road.
What are you cooking in your trailer?
Our Spring menu is Eastern European-inspired, but with a slight Middle-Eastern influence. We're serving latkes (Jewish potato pancakes), with aioli and slaw, spiced chickpeas with Turkish yoghurt and cucumber salad, and a steamed sticky-beef bun.
How has Cumulus influenced Casey's Trailer Made dishes?
Casey is using techniques that she picked up at Cumulus, but all the recipes are her own. A lot of the flavours in our dishes are based on our recent travels in Europe.
What's it like going from working in a professional kitchen to a trailer?
Our kitchen is basically a mini commercial kitchen on wheels, and it works for Casey because she designed it herself, and she's used to working in small spaces! She loves moving locations and being able to look outside, which you can't do in a restaurant.
What makes your food truck different to the others in Melbourne?
Trucks are so high up and can feel impersonal, but our trailer is much closer to street level. I can talk to customers and provide lovely customer service, and people can look into the kitchen through a window at Casey preparing their meals.
Why do you think food trucks have become so popular?
Food trucks let people enjoy the experience of eating out, but with the buzz of being outdoors. And since they're always changing location, the chase can be fun!
How do you decide where to take your trailer?
We live in Coburg, and always wanted to park it close to home. We like finding places with lots of traffic, and open space for people to enjoy their food. Currently we're in Lygon street, East Brunswick four nights a week.
If you could choose to park your truck anywhere in Melbourne, where would it be?
Casey and I are huge dog-lovers, so we'd love to take the trailer to a dog park this summer! It'd be great to feed the owners while their dogs have a good time in a beautiful park.
Details
Best selling Time Out Offers