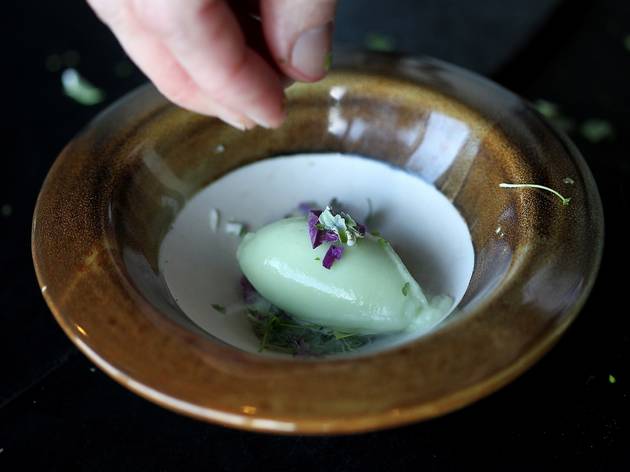 1/10
Photograph: Graham Denholm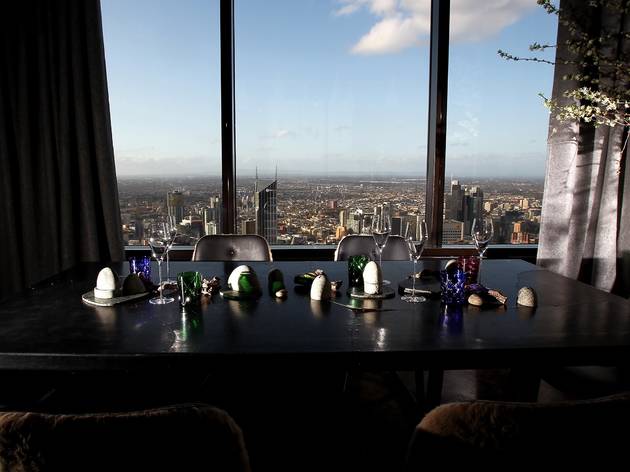 2/10
Photograph: Graham Denholm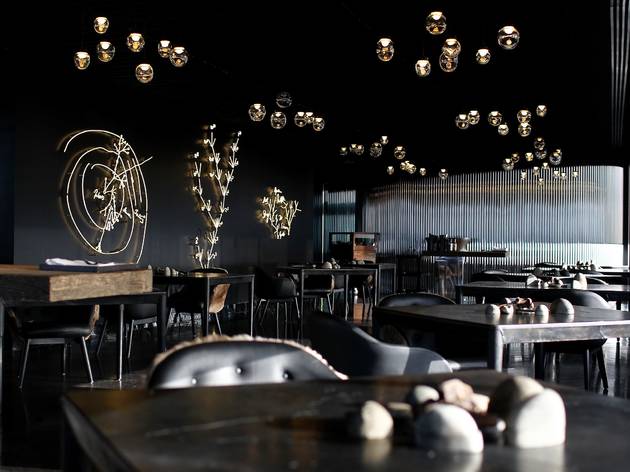 3/10
Photograph: Graham Denholm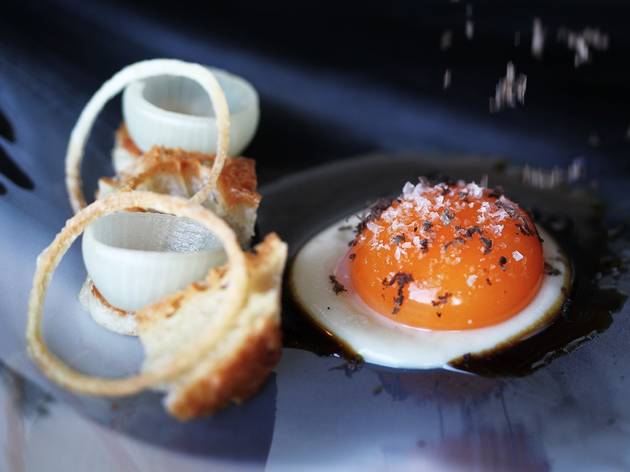 4/10
Photograph: Graham Denholm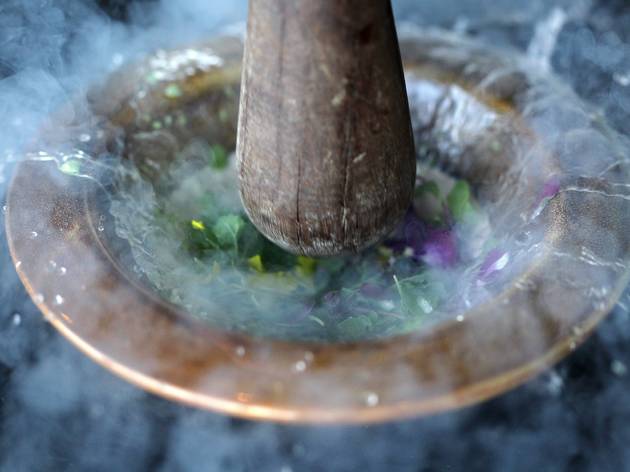 5/10
Photograph: Graham Denholm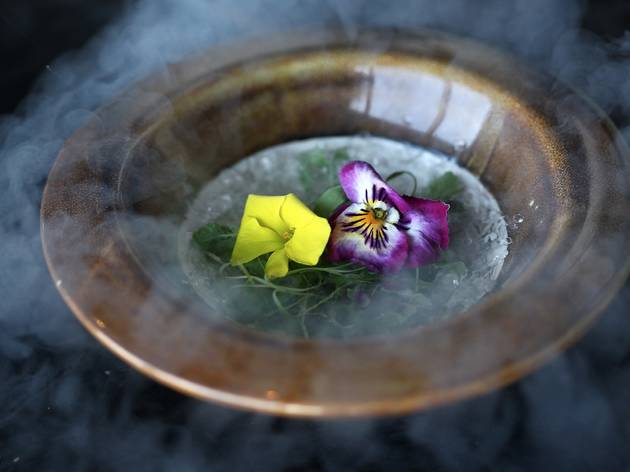 6/10
Photograph: Graham Denholm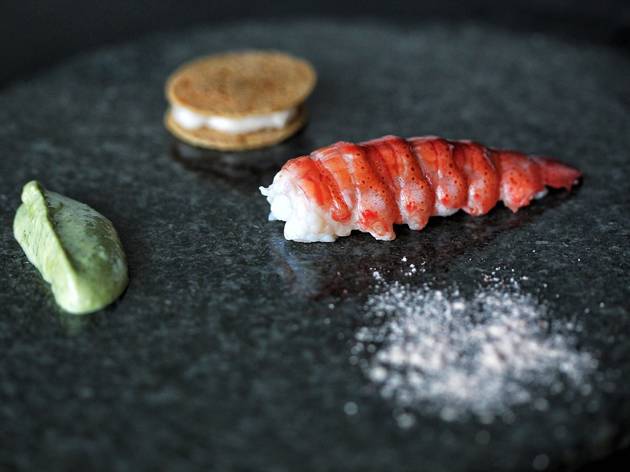 7/10
Photograph: Graham Denholm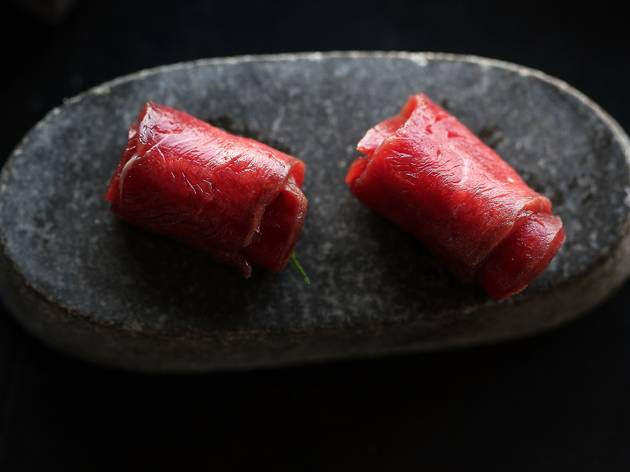 8/10
Photograph: Graham Denholm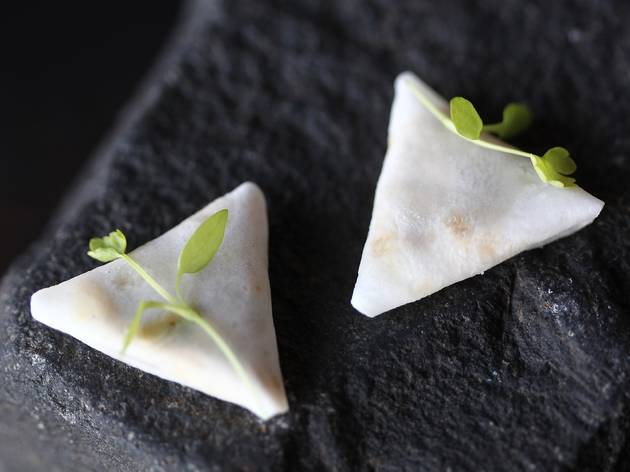 9/10
Photograph: Graham Denholm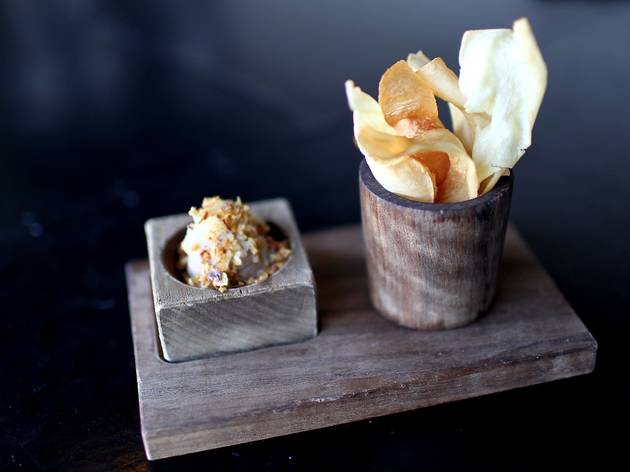 10/10
Photograph: Graham Denholm
Vue De Monde still represents the pinnacle of fine-dining in Melbourne – if you can get in
Vue De Monde. It's expensive, spectacular and the mod-Oz crowning glory of chef Shannon Bennett's predominantly French empire, but above all, it's a pain in the arse to get into.
Here's the deal: they do two sittings at Vue. The early shift is readily available, but you'll only get one hour and forty-five minutes in which to do the four course a la carte menu or attempt a speedy six-course deg. And at $150/$210 we can't recommend it. You need time to do this place justice. And that means shooting for Sunday lunch, or trawling the website for late evening tables that won't be flipped. Why they don't tell us this, as we're bemusedly inquiring how one actually does their premium ten-course degustation, we'll never know. But now you do, wait it out and book assertively, because the experience of dining here is incomparable.
At the top of the Rialto, immersed in that dark space of matte blacks with glass orbs hovering above, and city lights glittering far below, you're suspended in a galaxy. You'll be smashing liquid nitrogen frozen herbs at altitude, and should your wallet be thick enough, sipping something outlandish while you do. And while upwards of eight staff, (including chefs) make cameo appearances at your table, service is a smooth ride from the second you step from the private elevator, to the moment you're whisked back to Earth clutching your goodie-bag of brioche and tea for take-home breakfast.
Don't let the nitro trick fool you. Bennett likes to put on a show, but his theatrics are more presentation than preparation based. He's no Heston Blumenthal trickster, so while your oysters, simply grilled with wild garlic and a notch of butter, are presented in a teensy sandpit, that's not edible sand. Trust us.
Often, he lets deliciousness speak for itself. Two long strips of raw wallaby (Australia's most delicious marsupial) are wheeled out on a heated salt slab before being rolled up and transferred, cured, salty and warm onto the river rocks decorating the roo-hide covered tables.
Bennett's gone decidedly earthy and Bush Tucker Man in the past few years –saltbush abounds and you'll get to use your mitts more than once. Although, compared to the thought-provoking gear Ben Shewry creates at Attica, the native Australian aspect feels more like a theme than innate philosophy here.
Bennett's not trading his wagyu for roo yet, anyway, but he does serve that tenderloin gently sizzling on a mini barbecue. But nobody is complaining, especially not the many foreign diners filling those now internationally famous furry seats. Paired with gently braised cheek, earthy beetroot and saltbush, it's still a very respectful way to dispatch that noble beast – courtesy of wagyu expert David Blackmore.
Then there's the infamous marron. Every scrap, from the butter and thyme in which that fat crimson tail is poached, to the shell and meaty trimmings, is up-cycled into a silky tarragon-spiked emulsion, salty dust and a crisp little sandwich of off-cuts respectively. Dip and dunk at will.
But as much finger licking fun as everyone's having, Bennett's still a Francophile and this is still Vue. A black blizzard of truffle showers slow-cooked duck yolk, and though passionfuit-licorice 'beer' and eucalypt balls may bookmark dessert, the main deal is a cloud-like chocolate soufflé, filled with thick crème anglaise.
At $250, it's painfully expensive with incredible wine doing the kicking, but at these lofty heights of fine dining, it also stands alone. Vue De Monde is the restaurant at the top of the world, and at the top of its game.
Group dinners:
Lord it up over Melbourne from the 55th floor of the Rialto. The terrace and dining rooms have a minimum spend, but whether you do Shannon Bennett's mod-Aus degustation or drink till you hit quota is up to you. Numbers: Up to 50. $4,000-$7,500 minimum spend, food/drink packages vary.
Tea:
French ex-pat Sarah Harleaux holds the enviable title of tea sommelier at Vue De Monde (the only restaurant in Australia to have such a role). Harleaux sources her 40-plus teas from the best tea-producing spots on the globe and matches each drink to Shannon Bennett's intricate menu. Masterclass tea cupping events are also on offer, where Harleaux exposes tea-lovers to some pretty special beauties like the 'Yunnan White' from China, with notes of apricots and white asparagus. This is as far from a Devonshire cream tea as you can get.
Read about cheap alternatives to Melbourne's most expensive restaurants.
---
Venue name:
Vue De Monde
Contact:
Address:
Rialto, lvl 55
525 Collins St
Melbourne
3000

Opening hours:
Lunch Tue-Fri, Sun noon-3pm; Dinner Mon-Sat 6pm-late