A beginner's guide to fetish
The world of fetish can be a tough nut to crack if you don't know where to start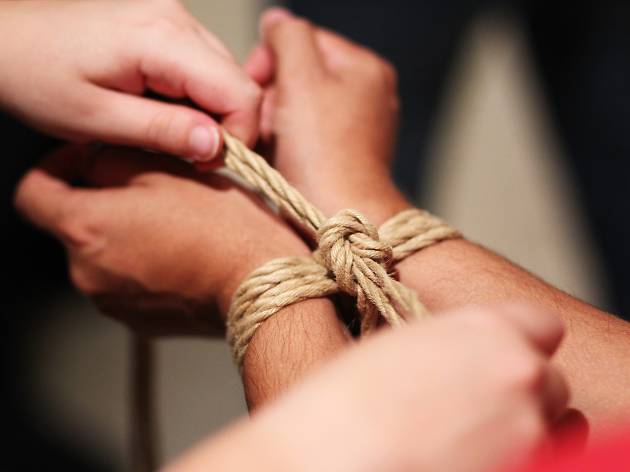 You may not know it, you may not want to know it, but our fine city has one happening fetish scene. Almost every night of the week you can find something going on to tickle someone's fancy.
Yes, there are the seedy parties happening in homes all over Melbourne, lots of them, but there are also plenty of organised, legal and safe events being held at reputable venues. When the layman thinks of 'fetish', they probably conjure forth an image of a PVC-clad dominatrix or chap in a gimp mask – but while bondage may be the most popular fetish, according to international fetish website FetLife, there's plenty more weirdness to be foraged out.
The obvious place to begin is FetLife; the perve community's answer to social networking. I work on getting me and my unwilling boyfriend into the Saints and Sinners ball – one of the biggest events on Melbourne's fetish calendar. The manager of the event doesn't want any kind of press or publicity (they've been burnt by hacks too many times before) so we buy tickets like regular old patrons and ready ourselves for a night of… open mindedness. We book a hotel room in the city, rustle up some sweet sci-fi costumes to suit the 'Lust in Space' theme, and I do a last-minute check with the organiser to check we're on the right track. No, is the short answer.
"The event works because everyone is wearing not very much," I'm told. My She-Ra costume just won't do. When it's suggested that at a stretch my boyfriend would be "OK in chaps and a G-string'," I'm afraid I pull the plug. It turns out that while Saints and Sinners ball is very popular, it's definitely not a beginner's kind of event. Thankfully, it IS my neighbour's kind of event, so I quiz her on what it's all about. She laughs heartily. "Of course you shouldn't go," she says, filling me in on the whipping frame, stocks and 'grope box'. "You would have seen lots of rude stuff. Really rude stuff."
I'm not thwarted. Later in the week, I meet up with Master Joe and Kim, a couple who run a monthly night for the BDSM community called Chains. They laugh almost as hard as my neighbour when I tell them about my failed attempt to go attend the Saints and Sinners ball. "That's not fetish, that's swingers," they hoot, swigging coffee at their kitchen table from 'master' and 'slave' mugs. While some fetish clubs do allow sex on premises, Chains is all about the tease. The Chains house rule – "no pink bits" – means that their BDSM loving guests are focused on the 'play' rather than the sex. Master Joe puts it bluntly: "If anyone sticks a finger inside a girl, we stop them. If they do it again, we kick them out."
'If anyone sticks a finger inside a girl, we stop them.'
Master Joe and Kim are nothing like I expected. Yes, they're in a master/slave relationship that involves tattooing, strict ritual and a level of trust I can't begin to comprehend, but they're also incredibly community minded, often turning their monthly parties into fundraisers. "The first fundraiser we did was for my son, who suffers from a rare muscle disorder," Kim explains. "We needed to raise enough money to get him to a doctor in the US, Master Joe did that for me."
Since then, they have raised money for a whole host of causes, including members of the BDSM community in need, the bushfire appeal and the floods, the combination of which earned Master Joe a capping. "The community awarded me my Master's Cap." he says proudly, placing the black leather cap on the table. "It's like being knighted – not many people have been capped. Each city might have one or two. The person has to have made a positive contribution, be honourable, and give back to their community." Honour and fetish side-by-side. Now I'm really learning something!
I ask Master Joe and Kim about other groups good for beginners, and they reel off a list of nights. Melbourne Munches is one – but not as filthy as its name might suggest. "It's a vanilla event," Master Joe explains. "People get together for dinner at a normal venue and just talk. The nights are regularly advertised on FetLife." The pair also suggest Melbourne Rope Dojo, a class run by Shibari practitioner, Scott. "Half the people there are Chains regulars," Kim tells me. That makes sense. You need to learn the skills before you bring them out in public.
And so the following Monday night, my boyfriend and I head off to a rope tying class held in the very lovely home of Scott. The atmosphere feels more like a martial arts or yoga class than anything kinky. We sit and watch the intermediate class as they push, pull and wind their way though an hour of advanced rope tying. One couple are completely in their own world. They're in their thirties, and the woman is tying up her partner with more force than her small frame would suggest possible, while he closes his eyes and enjoys every twist, tug and push. On the other side of the room, a man ties up his female partner, so focused on the knots, shapes and technique that she barely exists. The range of ages and approaches has me enthralled, and before I know it, it's our turn to get up and give it a go.
'My dominance over my partner is somewhat undermined as he whispers helpful boy-scout tips.'
Safety is a big thing for this class. As Scott instructs us on how to tie a knot on the thigh "four fingers from the back of the knee, so you know, you avoid those tendons", it hits home that we are learning the basic skills so that we can suspend someone with rope. This is not a yoga class after all. We are taught about the importance of having control over the person we're tying up, to always tie knots from the top, and to keep the rope tight as we wind it round our partners. I feel my dominance over my partner is somewhat undermined as he whispers helpful boy-scout tips on reef knots, but I persevere.
After the formal part of the class is over, one of the intermediate members comes over to show me his ropes, all different colours, sizes and textures. Beautiful ropes. It turns out he's a rope salesman. As we browse his collection and look around the room at students showing each other their tricks and tips, I'm struck by how normal this all seems. Fetish doesn't have to mean giant club events packed with near-naked swingers or curious-smelling dungeons. It can be a supportive community, a group of people to have dinner with, or a discussion board online. So if you've thought about exploring the Melbourne fetish scene, or this article has left you curious, here's what you should do next. Get a FetLife profile, make friends and ask questions and remember: it's only as hardcore as you want it to be.
Find out more about fetish
FetLife.org - An international social networking site for lovers of fetish. Includes discussion boards, event listings and videos.
kimdebron.com - A guide to BDSM complete with kinktionary. A very in-depth website full of articles written by Kim from Chains.
Shopping for the BDSM curious
If you know where to look, visiting sticky-floored, male-centric sex shops is (thankfully) not the only way to find all of your 'adult' needs. These five sex shops stock high-quality toys, tools and outfits in a friendly environment.