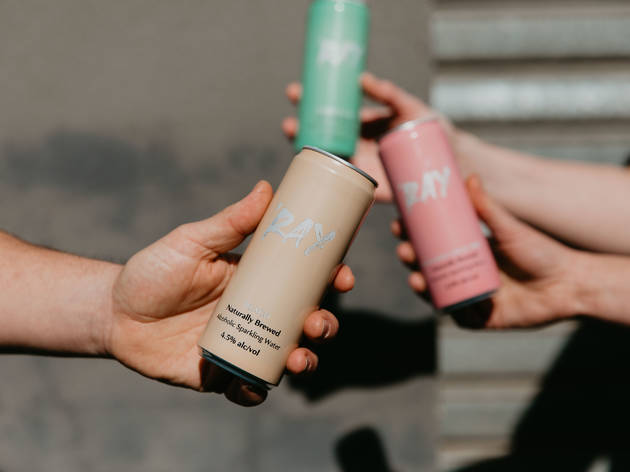 Why 2020 is the official summer of hard seltzer
Hard seltzer is set to be the drink of summer, and here's what you need to know about it
Hard seltzer is one of those drinks that will slowly sneak up on you.
It's the ultimate session drink but boozehounds beware, it's so smooth that you might fool yourself into thinking you're drinking lightly spritzed water. And after you innocently knock back a few of them, that's when it will catch up with you.
But despite including the word 'hard' in its title, hard seltzer is effectively the kombucha of the alcohol world, minus the scobies. It generally contains fewer calories than most pre-mixed drinks (here's looking at you, Smirnoff Double Blacks) and is set to be a staple of everyone's summer of socially distanced mingling.
Seltzer is the American term for sparkling water, and the US happens to be the home of hard seltzer. Does White Claw ring a bell? It's the leading brand of hard seltzer in the US, and Americans have been guzzling down so much of the stuff lately that the brand has struggled to keep up with demand.
So, what exactly is it? Aside from being a glorified vodka, lime and soda, it's generally known as a combo of either vodka, gin or tequila, mixed with soda water and a splash of fruit flavouring.
In the US, leading brands often brew theirs from fermented grains or cane sugar, technically making it a sort of beer. Its alcohol content changes from brand to brand, but you can expect to find between 4 and 6 per cent in each can, as well as a low calorie count of around 100 calories. In most brands, one can equates to about one standard drink, but it varies depending on strength.
We have hard seltzers to thank for normalising alcopops for adults, and naturally, it's an easy way to lug pre-mixed drinks to the park for outdoor picnics and parties.
Own your desire to enjoy a cocktail in front of your beer-drinking friends and try it for yourself. Here's a list of some that are out now in Australia.
'Ray
Blackhearts & Sparrows has joined forces with new hard seltzer brand 'Ray to release a limited-edition grapefruit flavour. 'Ray, which is run out of Footscray, is from the team behind Hop Nation Brewing Co. Flavours include watermelon and mint; peach; lemon and lime; and grapefruit. You can buy them via Hop Nation's online store or at Dan Murphy's, Blackhearts & Sparrows and independent bottle shops.
Moon Dog Brewing

Moon Dog Brewing's Moon Dog Fizzer comes in four nostalgic flavours. The flavours include Coco Magic, Piney Limey, Strawbs & Cream and Tropical Crush, with all flavours expertly crafted by Moon Dog's own Chris Hysted-Adams (a three-time winner of Australian Bartender of the Year). Purchase some via the online store.
Delvi
The team at Delvi pride themselves on using locally sourced ingredients in their latest range of hard seltzers, which come in desert lime or blood orange passion. They're available in packs of four or 24, for those looking to let loose on the fizz. Get yours via Fizztopia.
Splash Vodka
Splash Vodka is here to fulfil all your basic drink needs without having to visit the bar. The Splash Vodka Lime and Soda Cans are pretty self-explanatory – and remember, soda is seltzer. Grab a four- or 24-pack from Dan Murphy's.
Vacay
Vacay had an award-winning sommelier working on the Vacay Alcoholic Seltzer. It's light and comes in raspberry; lime; pure (that is, unflavoured) and Kakadu plum. These cans haven't been released into the wild yet, but watch this space.
Smirnoff
Smirnoff has recently announced its line of Smirnoff Seltzers available in natural lime; raspberry rosé; and passionfruit. Each can is 250ml, and you can get a four-pack from your closest Dan Murphy's or BWS.
White Claw
The McDonald's of hard seltzers. These babies are imported straight from the US, and you can sample flavours like mango, lime and ruby grapefruit. The White Claw team are set to release more flavours in Australia as time goes on, but for now, you can get yours via Dan Murphy's.
Get great food to go along with it
We've taken the hassle out of buying picnic goods from the same stores you've been frequenting within your 5km radius and compiled a list of ready-to-go packs that some of Melbourne's venues have put together for you.