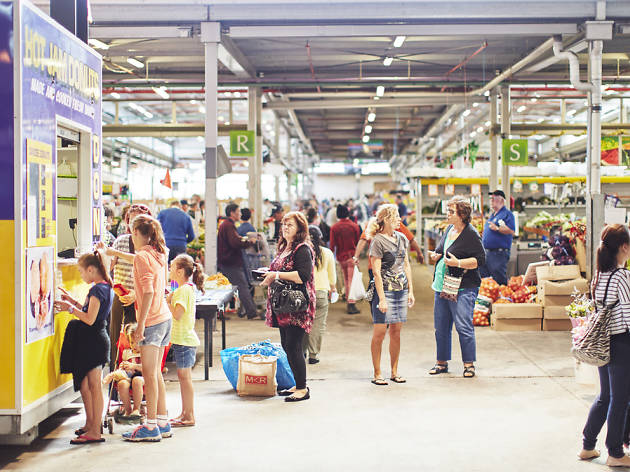 Time Out says
Every animal, vegetable and mineral from every corner of the world has ended up, believe it or not, in Dandenong
Dandenong may be a long schlep from the city, but have you ever been to the food market there? It is, dare we say it, possibly the most diverse, multicultural, bounteous and CHEAP bizarre bazaar that we have ever happened across. It's the sort of place where you most likely won't come away with what you went for, but you will leave loaded up with bags of produce that you can't even pronounce, let alone figure out how to use. Time Out went on a market crawl to see what they had to offer.
Hart's Honey
As well as fresh honeycomb, Joe Hart sells about half a dozen varieties of honey, from yellow box to red gum and New Zealand manuka at his stall. Though the colours and flavours may vary, all of Hart's honey is guaranteed to be sweet (sorry, we had to).
Marmara Halal Meats
The best halal butcher in the area with ample meat products. They specialise in a wide range of delicious flavoured sausages. Try the lamb tandoori, packed full of flavour.
Triple Q Farm
All free range and harvested from their own chooks, they come in nearly every shape and size from tiny to jumbo. Also stocks duck eggs and quail eggs.
Peanut Market
Sam Vavasis stocks more than 400 types of nuts, seeds, spices and berries. The guy's got everything from lentils to Indian red rice and more nuts than Harlan Pepper from Best in Show could name.
Sam's Spice and Grocery
Hey, remember Sam Vavasis from such places as the Peanut Market? Well, this is his newer venture which is the United Nations of supermarkets. He stocks items from India, Pakistan, the Pacific Islands, Macedonia, Serbia and beyond. Brightly packaged pre-prepared Indian dinners and sacks of basmati rice sit next to Asian hot sauces and cassava.
Schwarze Seafood
Dennis Schwarze, a third generation fishmonger has been at the market for 35 years and serves a steady stream of customers pretty much anything that you could imagine hooking out of the sea. From sand crabs to Tasmanian oysters, this is as close as you are going to get to the ocean in Dandenong. Check out their Facebook page – they may be old school 'mongers, but they keep a pretty up-to-the-minute page of recipes and grouper gossip.
Details
Address:
Cnr Cleeland & Clow St
Dandenong
Melbourne
3175

Contact:
Opening hours:
Tue 7am-4pm; Fri 7am-5pm; Sat 7am-4pm; Sun 10am-3pm