Made in Melbourne: Pop and Scott
This entrepreneurial couple went from being pot dealers to owning a successful homeware business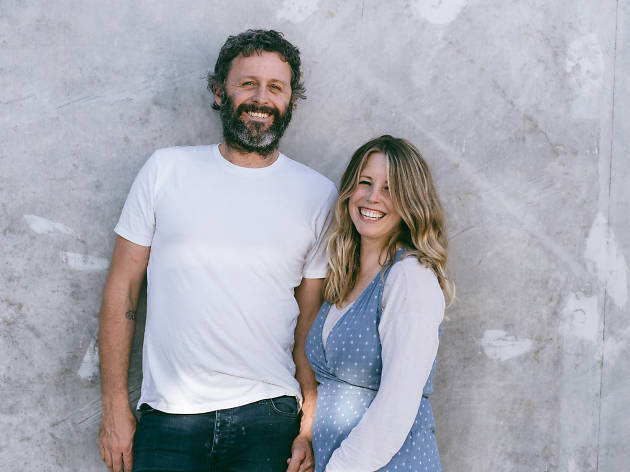 Five years ago, Melbourne couple Poppy Lane and Scott Gibson started making colourfully painted plant pots. Back then, they never thought that their business would grow into a successful homewares brand, specialising in locally made timber furniture and home furnishings.
Pop and Scott's aesthetic is a take on the modern Australian home, with nods to the popular mid-20th century look – all clean lines, blond timber and vintage-feel fabrics – accompanied with lots of indoor plants (housed in Poppy's pots, naturally). Their Northcote showroom displays everything from their first piece of furniture – a timber communal bench, not dissimilar to those in school canteens – to their Dreamer couches: simple, timber-based couches with linen upholstery. These are being sought after all over the world.
The Northcote showroom is also the site of Pop and Scott's workshop, which has evolved into a communal work space for fellow designers and artists. Lane explains that initially she and her partner "wanted to create a space for small businesses to be able to work on and share the woodwork machinery we bought [when we started Pop and Scott] to help with the huge cost of setting up a furniture business. It's a supportive environment – people can bounce ideas off each other, share skills and work alongside a community of like-minded creatives."
The decision to keep things local, from production in Melbourne and material from all over Australia, came naturally for the couple, who before starting the venture worked in floristry (Lane) and plumbing (Gibson). Even as Pop and Scott's range increases most of the production, from pot painting to woodwork, is still done out of Northcote with the help of some assistants. "Quite simply, we knew what we wanted to make, so it was easier to make everything ourselves."
What I wish I knew from the start: "We've grown a lot since we started in 2012. In fact, we've had patches where we've grown too fast, and I think if I could go back I'd tell myself to slow down a little bit, because that fast growth can be very taxing on you personally. For small businesses, particularly when you have kids and you still want a life like we do, it's crucial to step back from time to time."
More local makers
Melbourne is a city that likes to keep things local. Its designers, entrepreneurs and makers take pride in creating anything from furniture to top-shelf whiskies within city limits. So what is it that makes the city an incubator for all things locally made? We ask the people who have successfully made the most of everything Melbourne's offered to them.