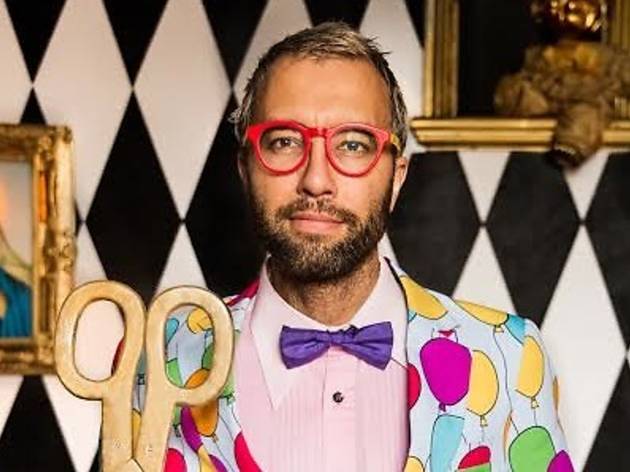 People travel interstate for Neel's services and we know why. Take it from a curly haired person – not any old hairdresser can cut curls properly – it's actually pretty damn hard to get it right (we once walked out onto Oxford Street and had a little cry after someone butchered our curls).
Happily, hair traumas are over – Neel Loves Curls is the curl guru. In fact, that's all he does – his salon doesn't cater for our straight haired compadres. Neel can tame frizz and cut so that you get manageable ringlets rather than an unruly mop. He also supplies the gear you need to replicate a good curl at home.
Venue name:
Neel Loves Curls
Contact:
Address:
Upstairs above Quick Brown Fox
357 Brunswick Street
Fitzroy
3065

You may be interested in:
Rating Breakdown
5 star:

1

4 star:

0

3 star:

0

2 star:

0

1 star:

1
This guy talks huge on his curls & boosts a lot. However not much can b said about work. Cut way too short & charge astronomical. He only know few basic styles. Stay away
If you have never heard of the Curly Girl Method and have no clue about how to care for your curls, then the tips alone and styling will wow you - this is thanks to Lorraine Massey who developed this method of both cutting and styling curly hair. However as far as the cut goes, you should find a stylist who takes more time and care to follow the method properly and to at least trim all of your locks instead of doing a superficial job and moving to other clients in order to find the best styling transformations for Instagram. It felt a bit like the McDonalds of haircuts with fine dining prices. For the same money in London, I have received amazing Curly Girl Method cuts. He spent far more time telling me my curls were amazing than actually cutting them. I understand many/most of his clients have not yet embraced their curls and need some encouragement, but I came for a quality haircut, not for a self-esteem boost. Nor to hear all about how great and busy he is. In fact, part of how he is convincing poor unsuspecting curlies who are desperate for a decent cut, is to pretend he is booked out for a month - this makes you desperate for a cut and likely to believe that whatever he does is magic. Between my friend and I, we discovered that he had at least 5 available slots on the upcomign Saturday, despite him having told each of us over text that he was booked out for a month and we might get lucky on the waiting list.

In the end, I spent almost $150 for a cut and 'deep conditioning treatment (some leave-in conditioner was put in my hair. also included in the cost of the cut in London), had to waste time returning to the salon the day before flying out of Melbourne and have a cut I can't stand and have to pay for another haircut to trim all the curls that were forgotten.


This method requires curls to be cut, lock by lock as each curl has its own personality. At maximum, three curls at a time. As I have had these cuts for the last years and have followed the method for styling, my hair was, according to Neel, in very good condition and it was clear I knew how to care for and style my hair. I guess that meant for Neel, it wasn't much of a challenge or opportunity to show off with before and after pictures on Instagram, so he didn't invest much time or effort in the cut.
He started clipping my hair and was about to cut before even asking what I wanted done, I had to quickly tell him what I was after before he started. (some layers around the face to add more shape and definitely not to look boxy/square at the bottom). I noticed immediately that he was not cutting 'lock by lock' as i am accustomed to with this method he claimed to be following (that the entire salon is based on). I mentioned that some of the ends still needed trimming and he said he would check it all after the hair was wet - standard procedure for curly girl method cuts. Only he didn't check each curl. He moved on very quickly to the styling part so he could move on to other clients. At the end I wasn't wowed at all as I have already been styling my hair using the same method for years and most of all, i could see that there was no obvious layering around the face/in general and that it was exactly what I'd asked to avoid, a boxy/buffy shape at the bottom. I decided not to panic and to see how it would look once i washed and styled it myself, but while out that night, i did notice it felt so much less layered than before and therefore and worst of all, that many of the locks had not been trimmed at all, and the straggly old ends were still there.

I went back two days later - after having washed and styled my hair again - at least in terms of getting all the forgotten locks trimmed, given how much I paid for this cut. Neel wasn't there so one of the other stylists took care of me. She saw that many of the locks hadn't been trimmed at all and that there was certainly no shape and agreed to fix it. Of course she was already with a client so she couldn't take the time required to basically start again and do it lock by lock, but spent longer than Neel did on the original cut. Unfortunately in order to add any shape, I had to lose a LOT of length, so my hair which was almost to my elbows when i walked in, now sits above my shoulders! Of course any trimming makes the hair appear shorter than it is as the curls spring up more, but this is significantly shorter than i have ever had my hair since I worn it curly for 6 years and now, I have to use more clips than ever before and am mostly wearing my hair up (but can't even get it up in a bun). To add insult to injury, other than despising the cut and lack of length, there are still many locks that have not been properly trimmed, so I have finally decided to pay for another haircut to have them trimmed. I will basically wear hats and scarves for the next months until I gain back some length and can get a decent cut, a lot sooner than i normally need to.

Never again. One star as it wasn't possible to post without a star.
I have been a recent client at Neel Loves Curls and it is an overall positive space to be in. Neel works hard and makes you feel good about embracing your natural hair and not one person complains, everyone has a smile on their face as soon as they walk in & out of that salon because they are treated with care, not only by Neel but the other lovely hairdressers that work there. What they do is amazing!!!