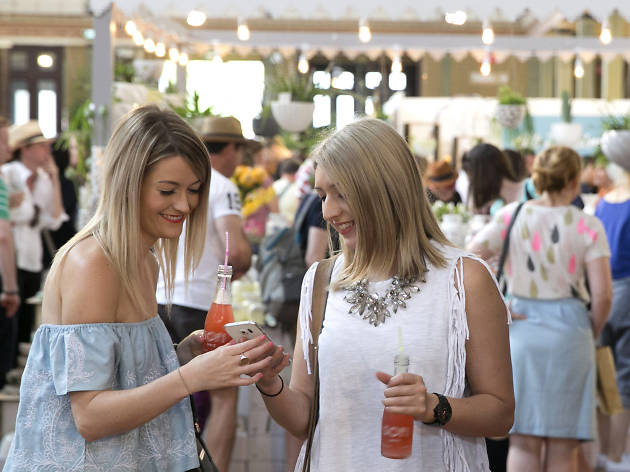 Make sure you check in at one of the year's best shopping events
Expect to give your wallet a whipping when The Big Design Market returns this year with over 230 talented designers and taste-makers from across the globe showcasing their wares. Expect objects of desire (homewares, furniture, ceramics and indoor plants) as well as new kit for the fashion forward, stationery and cool stuff for kids. Regulars to the Big Design Market will be pleased to know there are plenty of first-time designers on board for 2016 with beautiful new creations.

Kitsu
Handcrafted and geometric statement jewellery is what Kitsu does best. Their curiously shaped and bold-coloured earrings, bracelets and necklaces (all made in Melbourne) are designed to be shown off. Kitsu prides itself on their ethical handicraft and is a great addition to any summer wardrobe.
Capra Design
Even if you've picked up plant displays from Capra Design before, you're guaranteed something different every time. Melbourne's Bianca Lambert and Thomas Wilson have collaborated to bring handcrafted garden pieces made for both indoors and out. Homes can be adorned with two-toned pots, hanging gardens and vases which add to the natural beauty of the plants within them.
Claire Best Shoes
Claire Best's handmade shoes are usually made to order from her Brunswick studio, so her appearance at the Big Design Market is a real treat. The talented Best has designed all kinds of footwear for men and women – some of which are showcased in the National Gallery of Victoria.
Obus
A pop-up stand of this Melbourne label is bringing high-quality summer outfits to shoppers. Inspired by travel to warmer lands, everything from swimwear to socks has a tropical and cheeky flair, complete with striking patterns.
Will and Bear
You'll look like an intrepid wanderer in one of Will and Bear's woollen hats. Not only are Will and Bear's unisex wide brim hats made from Australian wool, but each for purchase, the label plants ten new trees.
Try these: craft workshops
Along with new designers, the market will host a range of workshops for those wanting to pull up their sleeves and learn a trick or two.
Melbourne designer Beci Orpin has created artwork for the likes of Gorman as well as her husband Raph Rashid's much-loved Taco Truck and Beatbox Kitchen (which, coincidentally, will be serving burgers and tacos at the market). Her quirky pastel designs will be on show as she teaches the skill of stamp making.
Internationally renowned Brunswick local Gemma Patford will also be sharing her knowledge on creating coloured rope baskets.
Hungry?
The market has secured some of Melbourne's tastiest feed from the likes of Sensory Lab, All Day Donuts, Miss Chu, Earl Canteen and Gelato Messina. A high tea and cocktail lounge is also available for those looking to kick their feet up a little while longer.