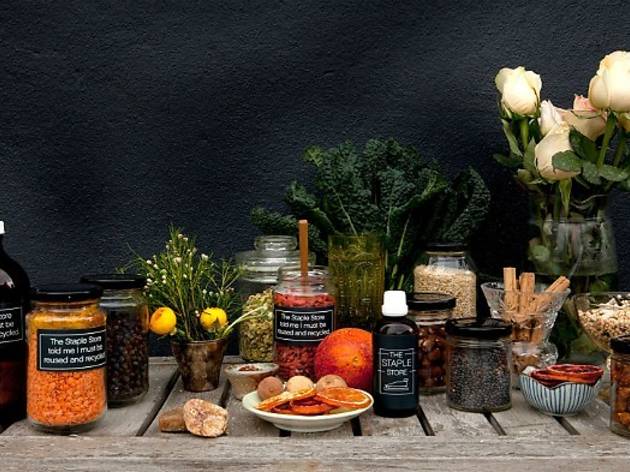 Time Out says
Catie Gett, owner and operator of The Staple Store, talks to us about shopping that's good for the body, soul and environment
Catie Gett, qualified naturopath and The Staple Store's heart and soul, was on the receiving end of some good eco influences even when she was little: her folks had a kitchen garden way before they were cool and her mum's interest in naturopathy planted the seed that grew into Gett's life long passion for holistic health and wellbeing.
After practicing naturopathy for a number of years, Gett launched The Staple Store in 2012. It's a unique proposition. For a start, it only deals with vendors and producers who have the concept of sustainable wellness nailed and it aims to inspire curiosity about the topic in its customers.
"We have all of these shops called health food shops, but they don't actually promote health and they don't have the same emphasis on holistic health that we do," says Gett. "I believe that when you consume foods in a holistic lifestyle, there's a number of other considerations apart from self. It's also important to consider the environment and other human beings – that's part of having a holistic diet. As opposed to, 'what do I need, what's the best for me?' It's all encompassing."
Inside this sweet-smelling south side pantry, you're encouraged to bring your own packaging because there are no plastic bags (we took Tupperware to stock up on dried fruit, nuts, cacao nibs, tea, wholefood powders and the like).
Better yet, Gett can put her hand on her heart and back what's stocked. For instance, Gett's dead against commercial antiperspirants, but, naturally, her customers are keen not to pong like woodcutters – so how do you tackle that? "My girls and I go out and find our favourite deodorants and then we road test everything," she says. "We choose our stock really carefully. If there are nine products in a range, we'll only take our two favourite ones. Everything is chosen consciously."
Details
Address:
19 Glen Eira Rd
Ripponlea
Melbourne
3185

Contact:
Opening hours:
Sun, Mon 10am-2pm; Tue-Fri 10am-6pm; Sat 10am-5pm
Users say