Three cool things to do at Chadstone after dark
When the sun goes down Melbourne's biggest shopping centre lights up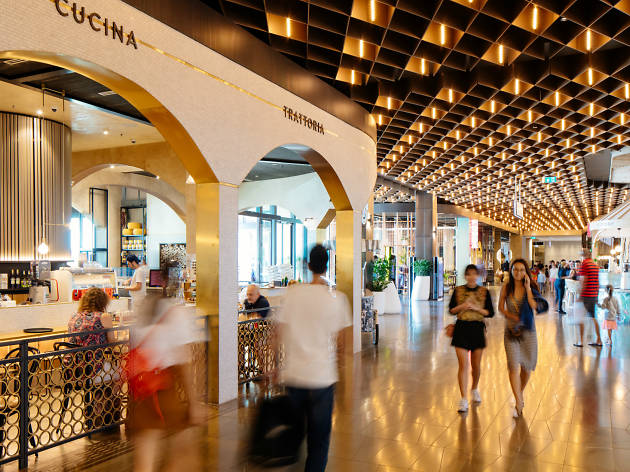 Let's get real: most people these days are stuck in the nine to five, Monday to Friday. Unless they're game enough to brave the great weekend morning shopping rush, it doesn't leave a lot of time in the week to sneak in some shopping time. Well, Chadstone has heard your prayers. They know that the fashion fun needn't stop when the sun sets – and the fun needn't be restricted to shopping either. Every Saturday evening in April Chadstone will enchant you with their Magic at Twilight event: a celebration of magic, illusion and performance. Whether you decide to fill your night with food, fashion or entertainment (or a bit of each), Chadstone will keep you entranced this April.
Take a break from shopping and check out the best of Chadstone's entertainment. Since the opening of the Legoland Discovery Centre last year, kids (well everyone really) have taken to the attraction with gusto, giving the centre's two rides, 4D cinema and creative workshops a thorough workout. Of course if you need something a little more laidback, there's Chadstone's huge Hoyts cinema complex. Every seat in the cinema is now a slick powered recliner chair and if you like you can really treat yourself with a Hoyts LUX experience where you can order treats and drinks from the comfort of your seats.
For the month of April you can look forward to even more fun times at Chadstone with the arrival of Magic at Twilight. Clear your Saturday evenings for the month because a world class line-up of magicians, illusionists and performers are setting up shop throughout the centre. There will be stage shows, roaming entertainers and bewitching installations. The best part about Magic at Twilight? It's all free.
Read more about Chadstone's Magic at Twilight with our top picks of all the highlights.
Between Chadstone's food courts, casual eateries in the Dining Laneway and restaurants on the Dining Terrace you can take a gastronomic journey without leaving Melbourne. Start at Woodstock Pizzicheria for an authentic Italian pizza, cleanse your palate with ice cream at Scroll and end with a cocktail at Ladurée.
During April's Magic at Twilight celebrations, dining at Chadstone is getting a few enchanting upgrades with several restaurants offering special dishes every Saturday night in April. Mexican mavens Fonda will be offering a four-dish twilight menu for two while Burger Project is doing a mystical smoking lemon meringue soft serve. For the full range of Magic at Twilight dishes visit their website.
Chadstone is Australia's biggest shopping centre and boasts more than 550 retailers and designer boutiques. The centre is home to more than 30 luxury brands including Burberry, Cartier, Balenciaga, Dior, Chanel, Emporio Armani and Christian Louboutin. If living in the lap of luxury just isn't your thing then there's plenty of other major brands and retailers selling everything from fashion, homewares, health and beauty to children's products, technology, travel goods and gifts.
The list of retailers at Chadstone is ever-growing and the centre is open until 9pm on Saturdays (and 7pm on Sundays) so you've got more hours to get your dose of retail therapy.