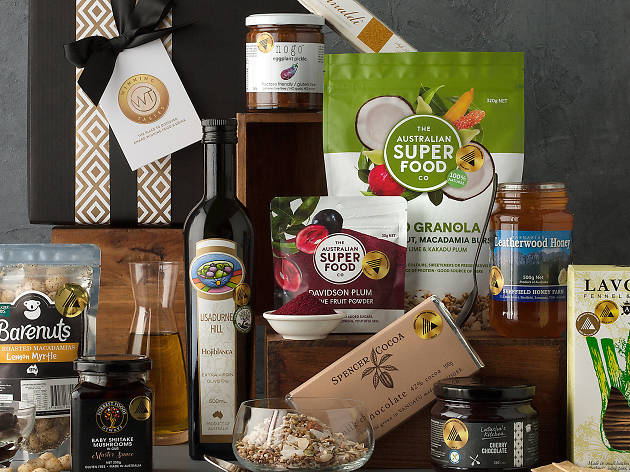 Winning Tastes hampers
Your Christmas gifting is sorted with hampers packed with award-winning gourmet products that you can order online in seconds
[Sponsored] Winning Tastes, the collective brand of the Royal Agricultural Society of Victoria's (RASV) food and drink awards program, has launched a new online store, offering customers the opportunity to buy high quality, award-winning products with the click of a button.
Featuring medal winners from the Australian Food Awards, the hampers have been selected to offer gourmet artisan products that are unique and have previously not been available to buy in one location.
Each selection is packaged and wrapped in tissue in a matt black box. Accompanying the box is a Winning Tastes gift card where you can have a personalised message added.
Check out the contents of the hampers below and order yours today.
Golden Sweet Temptations Hamper, $65
Indulge your sweet tooth with a selection of Gold Medal-winning sweet treats from the Australian Food Awards. Its handcrafted delights include:
• Best Confectionery winner Kokopod Butter Toffee 130g
• Rinaldi Confectionery Soft Almond Honey Nougat 86g
• Murray River Salted Chocolate Bar 50g
• Brittle Empress Classic Peanut Brittle 180g
Finest Savouries Hamper, $75
Awaken your tastebuds with the flavours in these medal-winning savoury selections from the Australian Food Awards. Hamper includes:
• 2017 Best Grain or Legume winner, Wits End Pulses Big Kabulis Chickpeas 600g
• Best Flavoured Olive Oil, Kyneton Agrumato Extra Virgin Olive Oil 250ml
• Melbourne Hot Sauce Chipotle BBQ Sauce 150ml
• Preserved & Pickled Plum, Coriander and Lime Chutney 300g
• Best Savoury Preserve, Doodles Creek Indian Wedding Chutney 280g
Gourmet Delights Hamper, $100
Whether you are creating a meal or a mid-afternoon platter, you can add distinct and delicious flavours to your food with the Gourmet Selections Hamper, filled with gold-medal winners from the Australian Food Awards.
• Otway Fields Black Garlic Salt 40g
• Woodman Estate Rhubarb & Ginger Preserve 330g
• Peninsula Larder Flavour Pearls Balsamic 50g
• Lisadurne Hill Hill Paddock Blend Extra Virgin Olive
Oil 100ml
• Josh & Sue Old Fashioned Tomato Relish 260g
• Spencer Cocoa Milk Chocolate 42% Vanuatu 100g Bar
Weekend Escape Hamper, $150
Escape for the perfect weekend away with this local selection of Australian Food Awards-winning artisan sweets, treats and tastes. This hamper features a mix of sweet and savoury flavours including:
• Best Table Olives Mount Zero Kalamata Olives 300g
• Best Crackers from Asterisk Kitchen Fennel and Thyme Lavosh crackers 300g
• Chokamour Timber Gift Box with single 65% Colombian Bar 100g
• Yumm Tastes Eat Clean Zucchini Pickle 320g
• Springmount Fine Foods Beetroot Relish 300g
• Coaldale Pickled Walnuts 315g
• Sticky Balsamic Original 250ml
• Food for Joy Lemon and Ginger Cordial 375ml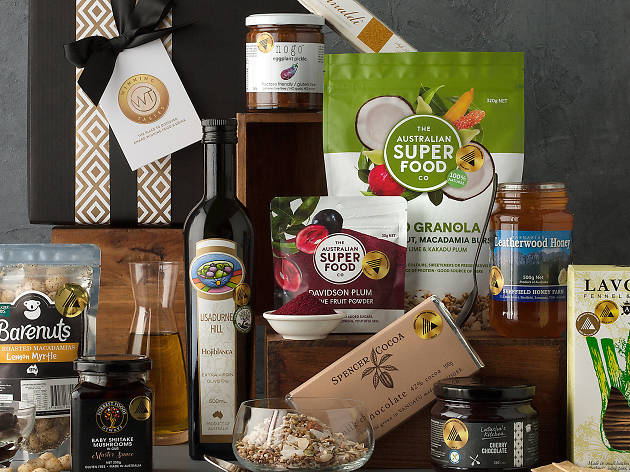 Ultimate Awards Hamper, $200
The ultimate selection of Gold Medal-winning treats, snacks and flavours from the Australian Food Awards, this hamper is designed to tempt food connoisseurs and home cooks.
• Australian Product of the Year: Oz Honey Sheffield Honey 500g
• Lime, Coconut, Macadamia Burst 320g
• Asterisk Kitchen Fennel and Thyme Lavosh crackers 300g
• Barenuts Lemon Myrtle Macadamia Nuts 150g
• Lisadurne Hill Hojiblanca Extra Virgin Olive Oil 500ml
• Latasha's Kitchen Cherry Chocolate Dessert Sauce 340g
• The Australian Superfood Company Freeze Dried Davidson Plum 30g
• Forrest Foods Baby Shiitake Mushrooms in Our Master Sauce 250g
• Nogo Sauces Eggplant Pickle 250g
• Spencer Cocoa Milk Chocolate 42% Vanuatu 100g Bar
• Rinaldi Confectionery Soft Almond Honey Nougat 86g