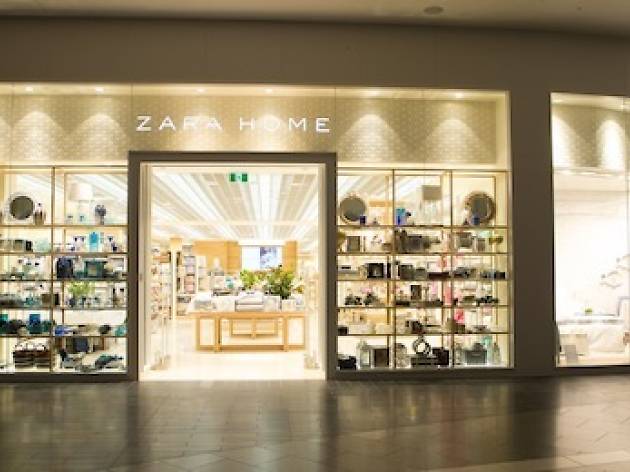 Time Out says
Australia's first Zara Home store has landed
It's been a while since we've visited Highpoint and it's totally high end, so it makes sense then that Zara decided to expand the empire by opening its first Aussie Zara Home store a wee bit west of the city.
Tucked in beside Apple and Armani, the store covers every home base – manchester, tableware, bath and body – everything from luxury lounge wares and slippers that are way too good to wear to the supermarket, to hyacinth-shaped candles, green faux-cowhide notepads and gilt crabs that double as tiny, secret storage spaces. The thick, pink chenille towels and red gingham and polka dotted cutlery spoke to us on the level of soul mates, but we resisted. This is our new go-to place for wedding gifts and our mates who have everything.
We're not too proud to admit that we have some homeware fetishes (specifically, aprons and tea towels). So, the grand plan for our visit to Zara Home was to hunt those out immediately, but we were distracted by a whole world of other home-based goodies that we didn't even know we needed – like coat hangers in those anodised steel cup colours our folks had in the '70s.
All merch is sourced from Europe and buying decisions are made in the Spanish head office, but feedback from stores, buyers and designers is taken into account, so it'll be interesting to see how the product lines evolve.
In terms of layout, the store's organised according to collection, rather than utility type. The two primary collections could be characterised as nautical, for the weekend abode at the Hamptons. Both are heavenly.
Aiden Darke, the store's manager, is understandably chuffed and he's got an excellent handle on where Zara Home sits in the market. "It's luxurious quality," he says. "However, it's not inaccessible – our product's within the range of the Australian household, although maybe with a bit of a step up." While it's probably unfair to play favourites, there's a line that particularly delights him. "The kids' range," he chortles. "I don't even have kids, but it's so adorable it makes me a little bit clucky."
We understand – the kids' collection is a treat for the eyes. We were particularly taken with the tiny Sailor Jerry themed pillows (we say Sailor Jerry, but it was age appropriate – no winking mermaids or anything).
Details
Address:
Level 3
120-200 Rosamond Road
Maribyrnong
Melbourne
3032

Contact:
Opening hours:
Mon-Wed 9.30am-5.30pm; Thu-Fri 9.30am-9pm; Sat 9.30am-6pm; Sun 10am-5pm