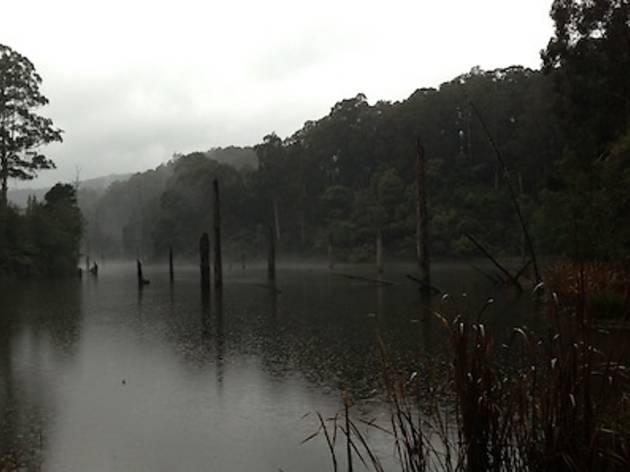 A serene way to start - or end - the day
The sight of the mist lifting off the still water of Lake Elizabeth as dead tree spires rise from its midst is nothing short of magical – and it's certainly something tour operator Bruce Jackson never tires of.
Jackson bought Otways Eco Tours back in 2001 when he moved to the nearby mountain township of Forrest and met the owner while watching a band at the Public Hall. Having a degree in Zoology and Botany and a love of the local environment, it seemed the perfect fit.
Now – as well as mountain biking and Great Ocean Road walking tours – he leads Paddle with the Platypus tours in canoes across Lake Elizabeth. You're 95 percent guaranteed to see a platypus (there's a 20 percent discount for no sightings), and on Time Out's trip we saw around four, with one gliding up to around five metres away from us for a closer look. Thanks to Jackson's extensive botanical knowledge, you'll also learn much about the local environment.
Given that your choice of outings are at dawn or dusk, dress warmly. Jackson can provide raincoats, but boots and hoodies are also a good idea. The tour can take up to 3.5 hours, including a break for tea and coffee. If you choose the dusk trip you can examine glow worms on your return, while the morning trip guarantees some exciting birdlife.
Venue name:
Paddle with the Platypus
Contact:
Address:
Lake Elizabeth
Kaanglang Rd
Forrest
Melbourne
3236

Price:
$50-$85