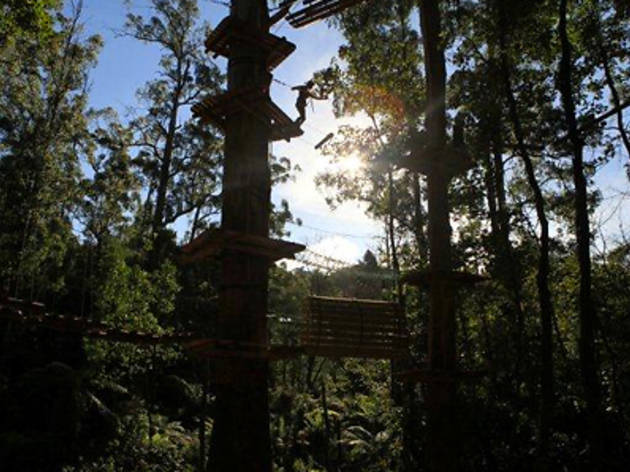 Time Out says
In the midst of the Dandenongs lie the Glen Harrow Gardens... a beauty spot ringing with terrified screams, thanks to the Trees Adventure Park in its midst.
After a scramble down the steep, muddy hill into the midst of a forest you'll find a tree top playground. In summer this is a glorious place to hang, mid-air. In winter the wooded canopy keeps the worst of the rain off your slicker. Meanwhile the excess water just adds an element of danger to the super slippery ropes. The course increases in difficulty.
For the under 13s there's the green course. It might look pretty daunting through grown-up eyes until a fearless seven-year-old taps their foot impatiently behind you as you try to balance on the skateboard. Which is on a rope. Which is not on the ground. Pride should kick in around here and keep you moving.
Ages five and up; adults also welcome to have a go!
Details
Address:
Glen Harrow Gardens
Old Monbulk Rd
Belgrave
Melbourne
3160

Price:
$25-$39
Contact:
Opening hours:
Mon-Fri 11am-5pm; Sat-Sun 9am-5pm