Virgin Active Collins Street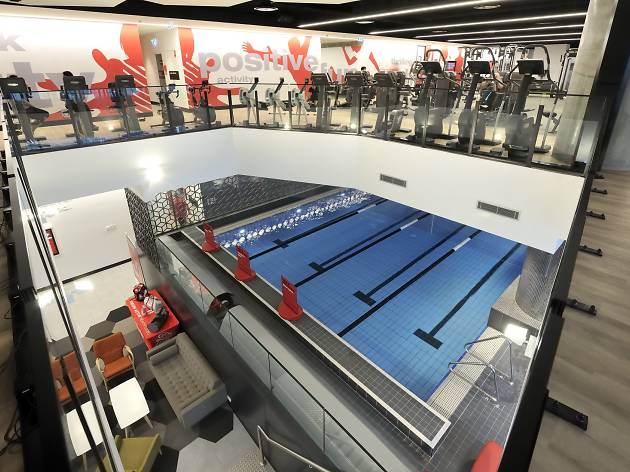 Time Out says
If you want a gym with the lot (including a swimming pool), Virgin Active is the club for you
Do you want to: run on a treadmill, do a Zumba class, go for a swim, hold a business meeting, sweat it out in a sauna, meet a friend for breakfast, do some yoga, lift weights, go rock climbing, have your muscles massaged by a vibrating plate, sit in a sauna, do Pilates, stretch out those office-banjaxed muscles, learn kickboxing or take a nap? Do you wish you could do all of those things in the same location?
If that sounds like you, Virgin Active is probably the gym of your dreams. The Collins Street location is three levels (the Bourke Street location is two) of state-of-the-art, steel-and-glass infrastructure designed to help you work out and chill out in equal measure (be mindful of all that glass, though – the showers are frosted glass, so you will get a general sense of the person in the stall next to you). There's a 25m pool, sauna, climbing wall, spin studio, nap pods, weights machines and free weights, studios offering more than 200 classes a week, cardio machines, business centre, internet-connected computers and a café.
This everything-but-the-kitchen-sink approach extends to customer service, as every 30 days you can be weighed and measured and have your fitness goals assessed. You can also ask a staff member to explain any part of the gym you don't understand at any time and you'll get a one-on-one session in any particular area.
Everything is clean and top-of-the-range, including fancy touches like Appelles body products in the showers (there's no deodorant, though, so make sure you bring your own). The proximity of the pool means the change rooms are sometimes wet, but staff make sure everything is kept neat and tidy for the most part.
Membership ranges from $35/week for a 12-month contract to $40 per casual visit to $45/week for a three-month membership.
You can book your classes online, to make sure you never miss out. And hey, if you don't really feel like working out, you can always go have a nap.
Best for: Those who like ALL the bells and whistles
Details
Address:
567 Collins Street
Melbourne
3000

Contact:
Opening hours:
Mon-Thu 6am-10pm; Fri 6am-9pm; Sat-Sun 9am-5pm