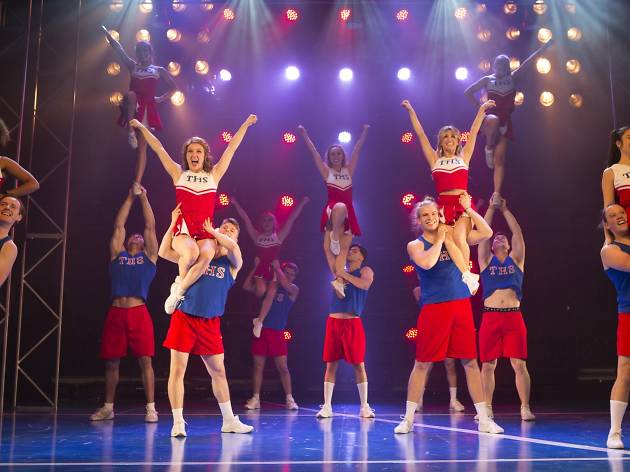 Time Out says
Friendly warning! We're working hard to be accurate. But these are unusual times, so please check that events are still happening.
The world of competitive cheerleading comes to the stage in this musical with songs by Lin-Manuel Miranda
Bring It On: The Musical is returning to the Athenaeum Theatre in 2019 with a new, yet-to-be-announced cast. Read our review of the 2018 Melbourne season below.
Did we need a musical based on Bring It On, the popular 2000 cheerleading movie that had so much to say it needed five sequels?
It's not the worst idea, but we did not need this iteration of Bring It On, which suffers from turgid dialogue, forgettable songs, a predictable and overdone plot, and at least in this production, a significant lack of pep.
That Bring It On is not better is a mystery, since it was written by an A-Team of contemporary musicals, with a book by Tony Award-winner Jeff Whitty (Avenue Q) and a score by Hamilton genius Lin-Manuel Miranda, Tom Kitt (another Tony Award-winner for Next to Normal) and Tony nominee Amanda Green (Hands on a Hardbody). But while there are flashes of Miranda's exquisite harmonies and clever wordplay (particularly in 'Move', the big number that opens the second act, and in some of the raps), the music is mostly underwhelming. Ballads build but then fade away, and none of the melodies grab a hold of you. In this high-stakes world of competitive cheerleading, the music should rev up an audience, but it's not distinctive enough to have much impact. The mixing does not help, either; the music overpowers the voices in parts, with critical lyrics difficult to hear.
The musical is not a retread of the movie; rather, it features new characters but a plot very similar to the second film. The local production is directed by Alister Smith, who was nominated for a Green Room Award for his production of Sondheim's Pacific Overtures. Leading the cast is Nadia Komazec (Mamma Mia, Matilda, Legally Blonde) and newcomer Elandrah Feo. Komazec plays Campbell, a high-achieving cheerleading queen at her local school, who is set to win the National Cheerleading Championships. But when she ends up moving to another school without a killer squad, her dreams are dashed – that is, until she decides to take Danielle's (Feo) dance crew and shape them into a winning team.
It is hinted that Campbell's new school is much poorer than her previous one, and in the New York version, her new school is primarily black and Latinx. But in this production, both schools seem to have about the same ethnic makeup, though Campbell's cheer squad is far whiter than Danielle's crew. This casting makes the bridging-the-racial-and-social-divide message seem a bit more incongruous than it otherwise would.
Feo is the standout of the show, proving herself a true quadruple threat (she can sing, dance, act and of course, cheer). Komazec is rock solid belting out the top notes in the score, but she seems to struggle a bit in lower registers.
Sets are minimal, with just a couple of lockers and bleachers to set the scene. That works well with the small stage (and you wouldn't want much to get in the way of the acrobatics), but the lighting is a little on the clumsy side, with cast members often singing and dancing in darkness.
But. Let's talk about what works in the show, and what works really, really works. The dancing is A-grade, with perfectly in sync hip-hop and contemporary numbers that really pop. The cheer scenes are gasp-inducing, with incredible gymnasts thrown through the air so high it looks like they're going to get stuck in the rigging. Choreographer Michael Ralph worked with cheerleading coach Natalie Commons, who has represented Australia internationally and has been involved in cheerleading for more than two decades, and this is where the show really shines.
Unfortunately though, to quote the Danielle, the rest of the show feels a bit rah rah, blah blah blah...
Details