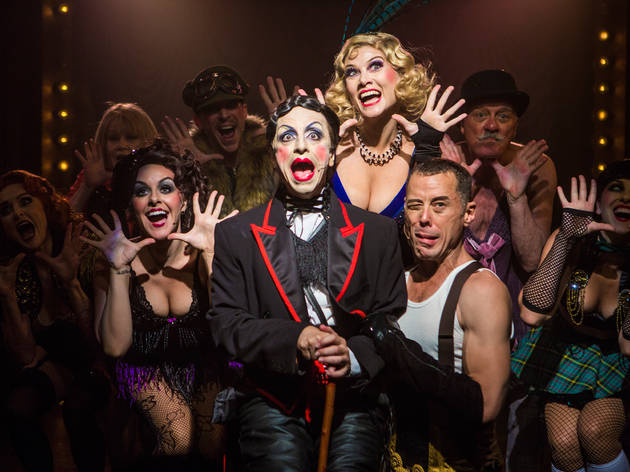 1/9
Photograph: John McRae
Paul Capsis (centre) and ensemble in 'Cabaret'
2/9
Photograph: John McRae
3/9
Photograph: John McRae
Jason Kos and Paul Capsis
4/9
Photograph: John McRae
Chelsea Gibb
5/9
Photograph: John McRae
6/9
Photograph: John McRae
Nick Jones, Michelle Barr, Matthew Manahan and Michelle Smitheram
7/9
Photograph: John McRae
Debora Krizak
8/9
Photograph: John McRae
Jason Kos, Chelsea Gibb, Kate Fitzpatrick and John O'May
9/9
Photograph: John McRae
Paul Capsis and Chelsea Gibb star in Kander & Ebb's musical tale of the last days of bohemian hedonism in pre-Nazi Berlin
Read Time Out Sydney's 3-star review of Cabaret.
Producer David M. Hawkins is behind this new Australian production of a classic, which – like the 2014 Broadway Revival by Sam Mendes – will return to Christopher Isherwood's 1939 novella for inspiration.
In other words, expect less Liza Minelli/Bob Fosse and more about the experience of what it was like for the Jews, gays and bohemians living at that time and place in history: Berlin during the Nazi rise to power.
Paul Capsis will take on the role of the louche Emcee of the Kit Kat Klub, and Chelsea Gibb will play young British cabaret star wannabe Sally Bowles.
Nicholas Christo will direct, with choreography by Kelley Abbey and musical direction by Lindsay Partridge.