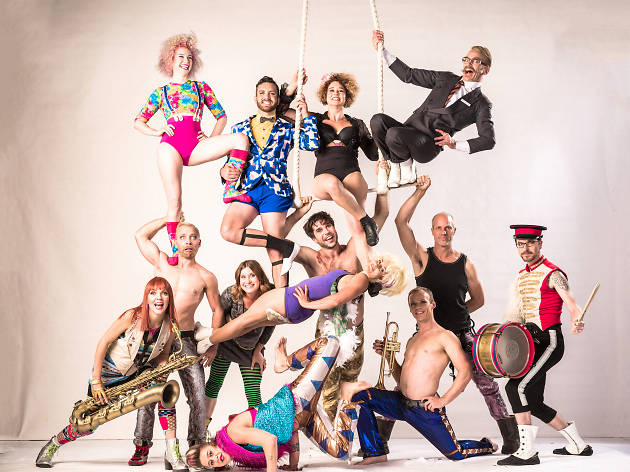 Sometimes you have to go back to go forward
For a show that shares its name with the year we're living in, Circus Oz's Twenty Sixteen feels refreshingly old school; any attempts to appear modish are eschewed in favour of simple, joyous circus. It's a pared-back approach that works wonders, highlighting the energy and versatility of the troop in an art form that traditionally showcases the skills of the individual.

To be fair, Circus Oz have always had a socialist take on this game, with major set pieces involving the whole cast consistently forming the spine of their shows. This is no different; one of the highlights is an all-in juggling routine that makes precision look anarchic. The conclusion of Act 1 is also nicely egalitarian, even if it involves the rather monarchist image of one cast member walking on the heads of the others.

Originality is a tough ask in circus; any innovation is quickly picked up and repeated throughout the world. It is therefore heartening to see one act that to my mind has never been seen before. A simple balancing act, one performer standing unsupported on the head of another, is given a delicious twist with the swapping of clothes. It's funny and tense and serves as a subtle dig on gender binaries.

Another staple gets a welcome twist, with the precarious chair-stacking routine opening out into a glorious paean to the surrealists. It is one of several moments of poeticism in the show, along with a lovely hacky-sack routine from newcomer Robbie Curtis, that lift the mood of knockabout earthiness into something higher, almost lofty.
'The whole thing is a triumph for Anni Davey as guest director'
The rambunctiousness is never far away though; the clowns make sure there are enough fart jokes and slapstick for the whole family. Dale Woodbridge-Brown is a riot, a triple threat: gay, indigenous and adopted. Flip Kammerer is less successful, imprecise and hard to hear, although she grows in the second half. Her dodgy faux-spiritual character eventually pays off even if the build up feels protracted.

In fact, the same could be said of the show as a whole. The first main act is also the least successful, a hoop routine that fails to excite despite looking like it's been directed by Bob Downe. The comedy is also initially too downbeat and flippant to inspire the kind of frenzy you associate with the circus. Things improve fast, though. Transitions get slicker and funnier, aerial work contrasts beautifully with more grounded routines, and eventually the mood lifts into the stratosphere. Ania Reynolds' virtuosic musical direction helps enormously, and includes a mobile drumming piece by Ben Hendry that is genuinely thrilling. The whole thing is a triumph for Anni Davey as guest director.

It's easy to forget how central Circus Oz is to the Australian cultural landscape. It feels like they've always been there. But recent savagery from government agencies underlines the fragility of our artistic institutions. There has never been a better time to take the family, and anyone else you can wrangle, to this country's seminal circus company.
---
Check out our interview with fabulous guest Director Anni Davey about her well met goals for the show.