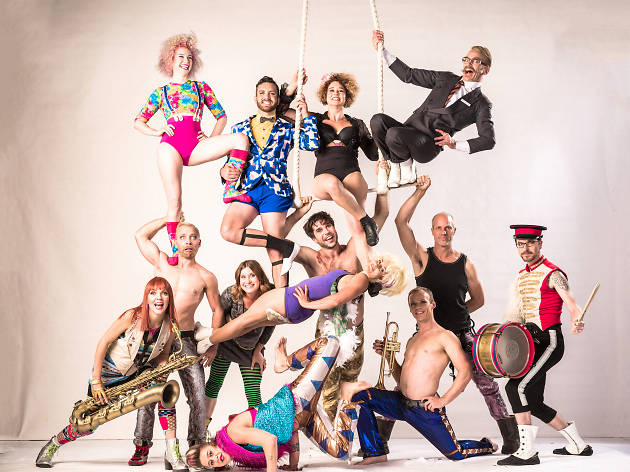 Interview with Circus Oz's guest director Anni Davey
This circus boss is one of the reasons Melbourne remains at the forefront of circus as an art form
Anni Davey is nothing short of a Melbourne marvel. You may have seen her in a show with her equally audacious twin sister, Maude Davey (Maude is a burlesque, theatre and performance artist, while Anni is a circus performer and director). You may also know her from her work with another Melbourne icon, Circus Oz, which has been pushing boundaries of circus, running community outreach programs and making political statements with their work since 1978.
Davey has been involved with Circus Oz since the '80s in one capacity or another, first as an aerialist and later in operational roles. Currently, she's Circus Oz's guest show director on the company's latest show, TwentySixteen. It's been a challenging ride to get to this point though.
During the Edinburgh Festival in 1991, Davy's foot strap broke and she plummeted to the floor, breaking her neck and both wrists, which left her laid up in traction for five months. Most folks wouldn't brave getting back up to those heights again, but Davey did. "I could never imagine doing anything else," she says. "I finally stopped being a performer at the end of 2004. About four months after that moment that I woke up and went, 'something is different: I'm not in pain'. So at that moment, deciding not to do it anymore was a good decision, but earlier there was no way I was going to stop performing."
In developing TwentySixteen, Davey has taken the repertoire of circus tricks and apparatus and challenged tradition, drawing inspiration from some unexpected quarters. "I've tried to make the pole act look really new," she says. "We all know what a traditional Chinese pole act looks like – there's a number of tricks and it's very presentational and people jump up and do extraordinary things on a pole and you go 'how the hell does anybody do that?'. Then they jump down and somebody else jumps up and does something extraordinary – handstands which are sideways and suspended by nothing except for muscle and bone. So, for this one I tried to make it very fluid – I talked about oozing and caterpillars, tentativeness, groups and clumping. I'm really proud of what we've come up with because it's a very different way of performing pole. It came from experiments we did at the beginning of the process – we went to a pole dancing class – they work with the same apparatus basically, but they do really different things and I wanted to know what that movement quality was and what would it do to our tricks."
You can catch TwentySixteen at the Circus Oz bigtop at Birrarung Marr until 10 July 2016. In the meantime, check out our review of the show (hint: we enjoyed laughed so hard our cheeks hurt).
Best selling Time Out Offers