Our Ladies of Perpetual Succour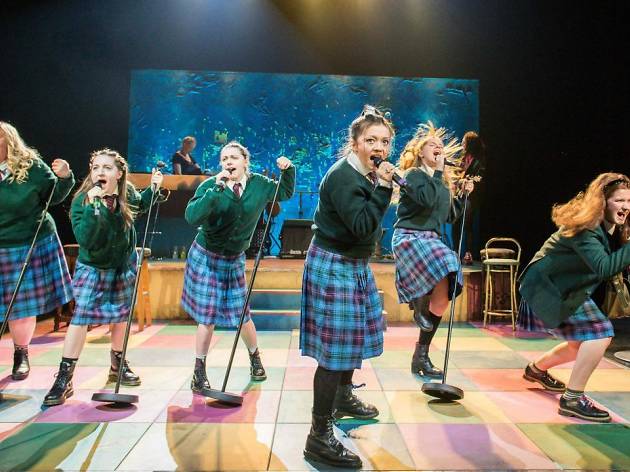 The National Theatre of Scotland's raucous tribute to teenage hedonism and self-discovery is a highlight of the Melbourne Festival
Six Catholic schoolgirls stand in two rows; hands clasped, faces composed, kilts neatly ironed. They launch into an a cappella rendition of Mendelssohn's 'Lift Thine Eyes', sopranos and altos nailing tight harmonies with easy precision. On the wall behind them, a mounted statue of the Virgin Mary glows softly.
The girls finish their song, breathe a sigh of relief and light up their ciggies. They've got just a few minutes to smoke, swear and talk trash before their choir mistress (who they've dubbed Sister Condom) returns to check on their rehearsal. It's not long now before they'll be leaving their small seaside town for Edinburgh, where they'll compete in a national choir competition. They're falling over themselves with excitement; visiting the capital means they'll get a taste of freedom, and hopefully, more than just a taste of sex, booze and Sambuca. What they don't expect is a night that will change them all irrevocably.
Teenage years are an incredibly rich subject for a writer; they're a period of time when adulthood is tantalisingly close, emotions run high and self-destruction is a form of self-expression. Above all, they're about figuring out who we are and who we'll become. Our Ladies of Perpetual Succour, the adaptation of Alan Warner's 1998 novel The Sopranos by Lee Hall (best known for the 2000 film Billy Elliot) represents this period with extraordinary insight and sensitivity, exploring universal ideas through the stories of six relatable and well-rounded characters.
Aside from the script and source material itself, virtually the entire production is female-led, and this is important in so many ways. "This is our story," says the plucky, ambitious Kylah (Frances Mali McCann), taking the early lead as narrator. And she's not lying. The girls recount the entire story themselves, playing all the peripheral characters along the way. The set (Chloe Lamford) – a raggedy nightclub floor with a raised platform behind for the three-piece band – is a suitably blank canvas for the girls to bring the story to life in a series of fast-paced and frenetic episodes, which director Vicky Featherstone wields with style and precision.
Each girl, from the thick-skinned and troubled Fionnula (Dawn Sievewright) to the privileged, yet unpopular Kay (Karen Fishwick) has her own voice, and her own story that unfolds (or more accurately, unravels) during the trip. The girls are agents of their own chaos; despite the constant threat of older men lurching and leering in bars and on the street, they're quick with a "fuck off" or a crushing insult if they're not interested. Even their favourite club is called The Man Cave; when they want a man, they entrap and seduce. Each actor owns her character with a fierce energy, the girls spitting out lines like "glass the illiterate cunt" and "spunk is like snot, but only warmer" with gusto.
They may not be model Catholic schoolgirls, but their perpetual succour (support in times of hardship) is shown in their unfailing support for one another through all manner of perils: poverty, cancer, teenage pregnancy, broken homes and confusion over sexuality, for a start. Some of the storylines might seem cliché, but it's Lee Hall's straight-to-the-heart storytelling and the quality of the performances that hit home. And when the girls sing together – their loud, clear voices filling the small Fairfax theatre with the music of ELO, Jeff Lynne and Bach – we feel the girls' brazen fearlessness and hunger to take on the world, familiar to us from our teenage years. And that is really something special.