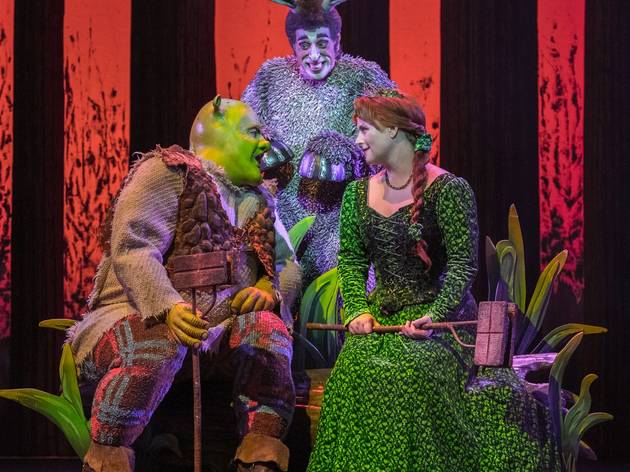 1/8
Photograph: Supplied/Brian Geach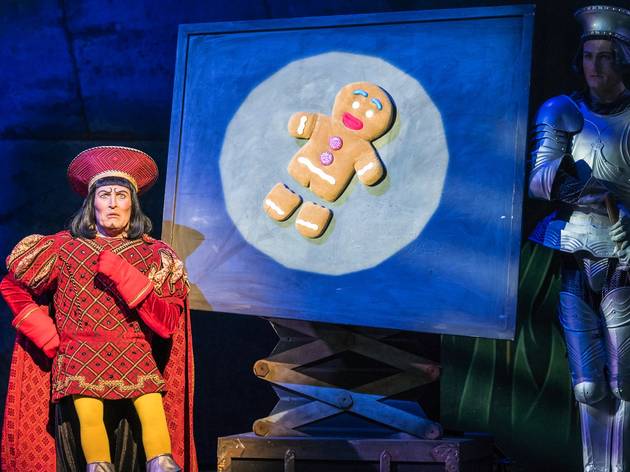 2/8
Photograph: Supplied/Brian Geach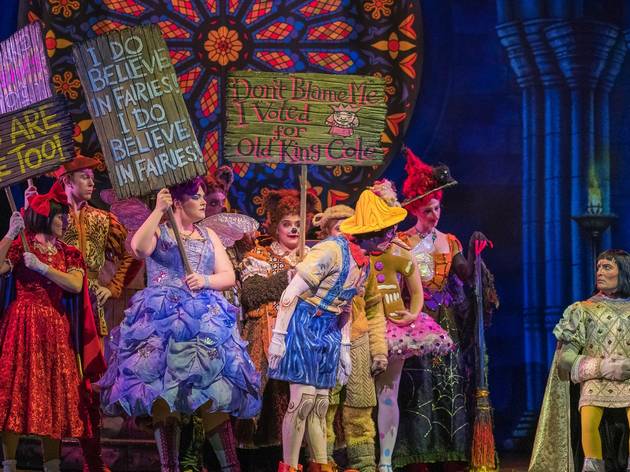 3/8
Photograph: Supplied/Brian Geach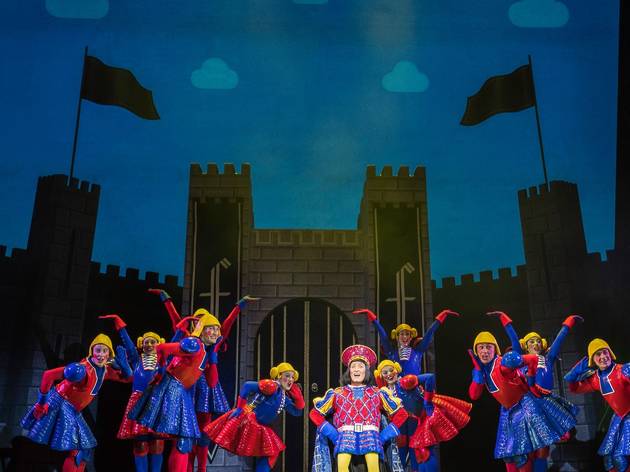 4/8
Photograph: Supplied/Brian Geach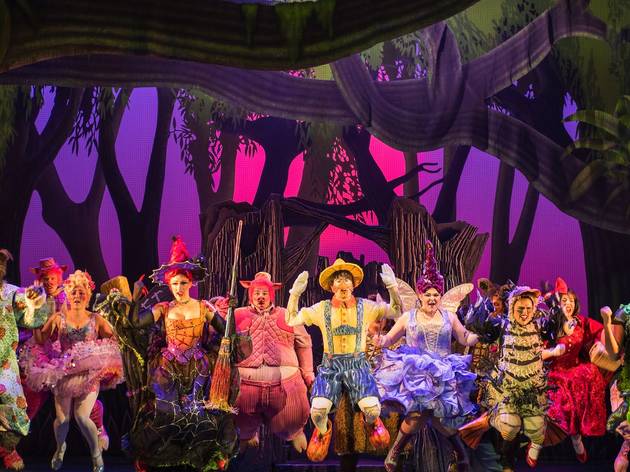 5/8
Photograph: Supplied/Brian Geach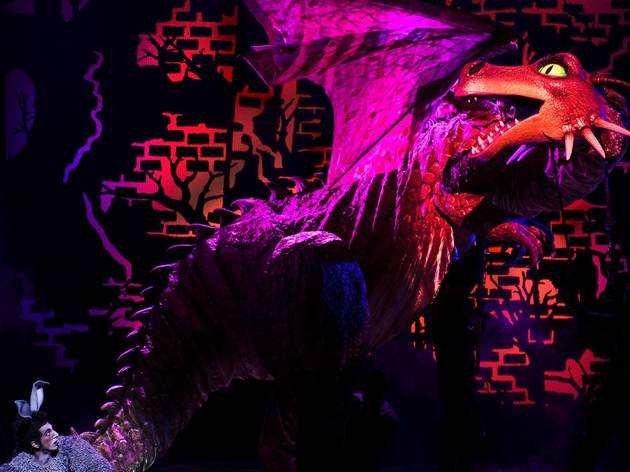 6/8
Photograph: Supplied/Brian Geach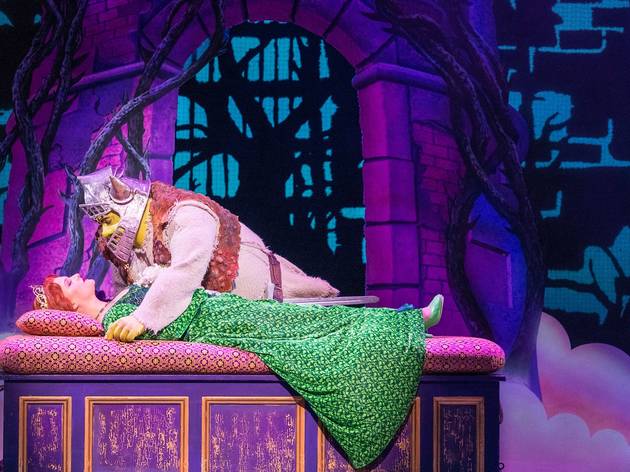 7/8
Photograph: Supplied/Brian Geach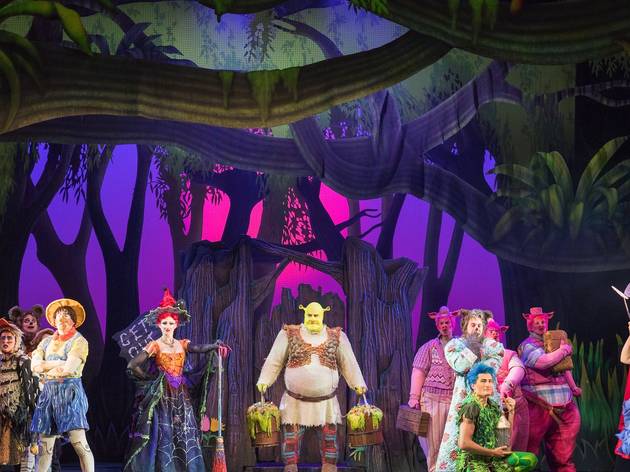 8/8
Photograph: Supplied/Brian Geach
Time Out says
Your favourite green ogre has set up swamp in Melbourne
Update 18/03/2020: The remainder of the season for Shrek the Musical has been cancelled following COVID-19 public health concerns.
This is a review of the Sydney season of Shrek the Musical
You've got to feel for the actor tasked with bringing the world's most famous ogre to life on stage. Not only does it take around two hours to get into the elaborate prosthetics required to transform into the character (and we can only imagine what it must feel like to sweat into a facefull of silicone for the two-hour show that follows) but animating that enormous green face has got to be an enormous challenge.
It's just one of the many difficulties inherent in adapting a much-loved animated film for the stage, and admittedly one of the more successful elements of this musical version of the 2001 film Shrek. Ben Mingay contorts the facial greenery into all sorts of convincing expressions, and although he could push his physicality a little bit further, he sings gorgeously and is a believable presence, centring this spoof of fairytale tropes.
For those unfamiliar with the source material, it concerns the titular green ogre, whose swamp – where he lives in blissful solitude away from torch and pitchfork-wielding villagers – is suddenly invaded by a mixed bag of fairytale characters, evicted from their homes by the villainous Lord Farquaad (Todd McKenney). To get his swamp back, Shrek agrees to go on a quest to rescue the beautiful Princess Fiona (Lucy Durack), who Farquaad intends to marry. Shrek is an unlikely hero and Fiona has lived almost her entire life locked high in a tower guarded by a ferocious dragon (voiced by Marcia Hines), but the pair find an unexpected connection.
The Dreamworks movie, upon which this musical is based, perfectly nailed its comedic tone, playing confidently to youngsters as well as grown-ups, and satirising the style of fairytale animation popularised by Disney. The stage version aims for similar and has enough razzle dazzle and good gags to keep you entertained. Jeanine Tesori's pop-inflected songs, along with David Lindsay-Abaire's book and lyrics (leaning heavily on the film) keep the adventure rolling along, and there are lots of smart subversions of fairytales and folklore.
But unlike the film, Shrek the Musical can never quite settle on an audience, its approach is to telling this story, or even its comedic style. It's been through iteration after iteration since it had it premiered in 2008, and this latest one, directed by Rob Ashford and Jason Moore, doesn't always feel as lively as you might hope. There's one great moment, later on, where three blind mice become glamorous, vampy backing vocalists, but it could still do with more of these touches of imagination.
Still, the ensemble makes a big impression as an eclectic cavalcade of famous faces, including Pinocchio, three not-so-little piggies, a less-than-wicked witch, and a wolf with a penchant for nighties. Their introductory number, 'Story of My Life', is one of the highlights, explaining how their happy endings never quite came true.
Lucy Durack is an appropriately inappropriate princess, even if her big song and dance number never quite soars, while Marcia Hines gets one big number, voicing an impressive, enormous dragon puppet. Nat Jobe does his best as Shrek's sidekick, Donkey, sticking closely to the template laid down by Eddie Murphy, who voiced the character in the film. Unfortunately he's been directed to take on a sort of flat African American accent, which doesn't seem particularly natural for Jobe.
The best supporting performance comes from Todd McKenney as the short-statured Farquaad. He's very funny in panto villain mode, and achieves a brilliant visual effect with nothing but kneepads and some very clever costuming.
Despite its shortcomings (pun intended) it's difficult to imagine kids won't be won over by the brightly colourful design (a scaled-back version of the Broadway and West End productions by Tim Hatley), the larger-than-life characters or the sheer number of fart jokes. For older audience members who grew up on the film hoping for a trip down memory lane, it delivers the moments you know and love, even if it doesn't have the film's flair.
Details
Best selling Time Out Offers