What you need to know about The Book of Mormon
Brush up on one of the biggest musicals of all time before it hits Melbourne in January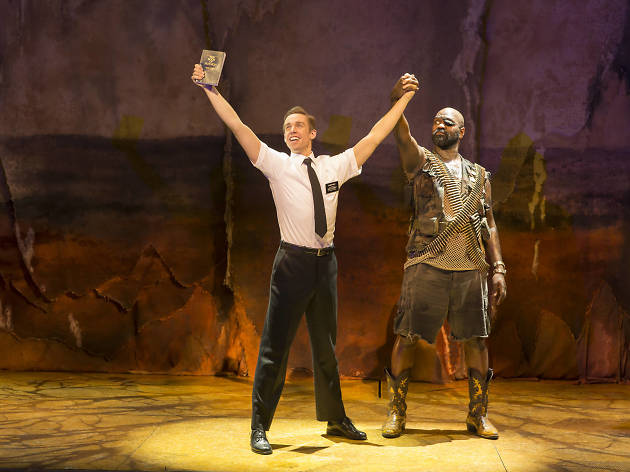 The most successful musical of all time is a show about a sewer-dwelling lunatic and his abysmal courtship technique (The Phantom of the Opera). The second most successful musical of all time is a hysterically bombastic version of an obscure episode in 19th century French history (Les Misérables). And the third most successful musical of all time is about some cats (Cats). So a show about two inept Mormon missionaries in a corner of Uganda ruled by a one-eyed, clitoris-phobic warlord should have a pretty good chance at getting up on that podium.
The Book of Mormon – which debuted on Broadway in 2011 and cleaned up at the Tony Awards – has converted New York and London already, breaking box office records and garnering near-unanimous critical acclaim. When tickets for the show's Australian debut in Melbourne were released in February 2016 – nearly a year in advance of opening night – the Princess Theatre recorded its highest pre-sale period of any production in its history.
So what's the secret of the show's success? As Time Out New York theatre editor David Cote points out, its writers, South Park creators Trey Parker and Matt Stone and Avenue Q and Frozen co-creator Robert Lopez, were hardly unknown quantities.
"Unlike other shows that go through the usual out-of-town agonies and tinker with the production before transferring, Mormon opened cold on Broadway," says Cote. With two song-filled hit films (Bigger, Longer & Uncut and Team America: World Police) and the long-running cult cartoon under their belts, Parker and Stone brought a fanbase with them. That fanbase was not disappointed: it's pretty safe to say that if you like the satirical animated antics of Cartman, Kyle et al, you'll love the tuneful adventures of young missionaries Elder Kevin Price and Elder Arnold Cunningham as they journey to Africa, attempt to convert the poverty-stricken locals to Mormonism, and cross swords with insane General Butt-Fucking-Naked.
Mormon was always going to be a hit, but what made it into the Mormania phenomenon is the fact that non-South Park fans love it too. The songs are excellent. Filthy, witty and outrageous, but also sumptuous and noteperfect, they nod to the golden age of the American musical. "It's a homage to classic Broadway,' observes Jared Gertner, who played young missionary Elder Arnold Cunningham in Broadway and the West End. "It then totally turns it on its head and drops a few F-bombs." But the key to the sheer scale of its success is how inoffensive it's proved. It's cool enough for the stoner crowd, sure; but it probably won't upset your mum too much – despite the swearwords.
"The songs are filthy, witty and outrageous, but also sumptuous and noteperfect"
"People come along expecting to laugh and be offended," says Gavin Creel, who starred as Elder Kevin Price alongside Gertner in both cities. "But they come out feeling good about the world. Really, it's a buddy comedy which uses the construct of all these large ideas about religion and the Third World versus the First World to tell a story about two 19-year-old boys, one who thinks he knows everything about everything, and one who just wants a friend."
The post-Lion King depiction of the luckless Ugandan tribesfolk has barely caused a ripple, largely accepted as ironic comment on Western perceptions of Africa. The Mormon community has responded to the whole thing with slightly forced good humour, even taking out some rather optimistic recruitment adverts in the program for the US tour. Creel and Gertner attribute this to the show's benign depiction of Mormonism. "The Mormons that have come to the show and come to say hello to us have loved it," says Creel. "I think they're just excited that people are talking more about Mormonism."
The final ingredient for Mormania has been some incredibly savvy marketing which has created a huge buzz and ensured demand for tickets vastly outstripped supply. Like New York and London, Melbourne is currently flooded with adverts for Mormon, despite the fact that it's practically sold out for its January booking period. There's a short-term loss in sales, but the increased desirability of the tickets – and quality of the viewing experience – is priceless.
This is an edited version of an article that originally ran in Time Out London.
Find out what critics in Time Out New York and London had to say about The Book of Mormon.
Want more theatre?
Book in for the best Melbourne shows with our guide to new and upcoming theatre in Melbourne. Our theatre critics recommend the best shows to see right now, as well as the most exciting upcoming shows in Melbourne.