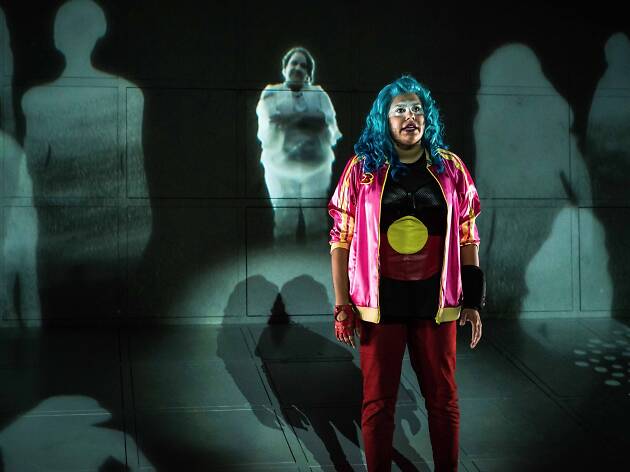 Critics' choice theatre shows in Melbourne
The best new and upcoming Melbourne theatre, musicals, opera and dance
Our theatre critics spend a scary amount of time sitting in dark rooms, so they usually know what's what when it comes to Melbourne's stages. Here are all their tips for the best shows to see right now, as well as the upcoming shows that we haven't seen yet, but think are going to set your heart racing.
For more Melbourne theatre information, check out our latest reviews and our guide to scoring cheap theatre tickets.
Critics' choice Melbourne shows
Melbourne musical theatre fans have had to wait a long time to see the celebrated stage version of Alison Bechdel's graphic novel Fun Home. It won the Tony Award for Best Musical back in 2015, but it won't be until this year that we'll finally get to see why this story of a young woman's discovery of her own sexuality, and her difficult relationship with her funeral director father, has captured so many hearts and minds. Local musical theatre dynamo Dean Bryant (behind award-winning tours of Sweet Charity and Little Shop of Horrors) will direct a new production, starring Lisa McCune and Muriel's Wedding the Musical's original Muriel, Maggie McKenna. It's an autobiographical work following Alison Bechdel, played by three actors from childhood to adulthood. Jeanine Tesori's sweeping score and Lisa Kron's book and lyrics have been lavished with praise – when it opened on the West End in 2017, Time Out London declared it the best new musical they'd seen since Hamilton – and the pair became the first female team to win the Tony for Best Original Score.
Opera Australia has a long history of bringing classic musicals to local audiences, but generally they've been faithful and traditional productions (and in some cases literally 60-year-old productions). But Opera Australia is doing something a little different as part of its 2020 season: Fiddler on the Roof performed entirely in Yiddish. Don't worry, there'll still be English surtitles to guide you through, but this production goes for authenticity above all else. Directed by Oscar and Tony winner Joel Grey (still known best for playing the Emcee in Cabaret), it premiered in New York last year to rave reviews and is enjoyed a return season due to popular demand. Casting is still to be confirmed for the Australian production, which will play Melbourne's Comedy Theatre from November 15.
Update 19/03/20: Come From Away has ended its season as of Sunday, March 15 due to government advice around the spread of COVID-19. If you have tickets for performances dated March 16 onwards you will be contacted to exchange your tickets for the encore season, or to receive a refund. Come From Away is returning to Melbourne for an encore season in February 2021. Presales for the encore season start Thursday, March 19 and general sales start Friday, March 20. When Stephen Sondheim's Assassins premiered in 1990, George Bush Sr was in power and the Gulf War was underway. Audiences during war time weren't really ready for a musical about the dark heart of the American dream, and it closed early. In 2004 it was remounted on Broadway and won four Tonys. Its time had come. Come from Away feels like the reverse: a musical that suits its time, is perhaps even flattered a little by it. It's of course impossible to predict, but it seems unlikely that this show will play quite so well in 15 years. Something about its message, its attitude and its structure relies heavily on the audience's willingness, even hunger, to receive it. We are living in dark times, and a show like this certainly hits the sweet spot. Does that necessarily make it a great show? Certainly, it tells a warm and reassuring tale about a community who rallies for people it doesn't know, and in that regard it is a necessary and timely one. On the morning of September 11, 2001 a total of 38 planes carrying 6,579 passenge
See our latest theatre reviews
What's showing this week?
Wondering what to see in Melbourne this week? Check out our guide to the theatre, opera, musicals and dance shows on Melbourne's stages for the next seven days.