2015 Summer Architecture Commission: John Wardle Architects
1/6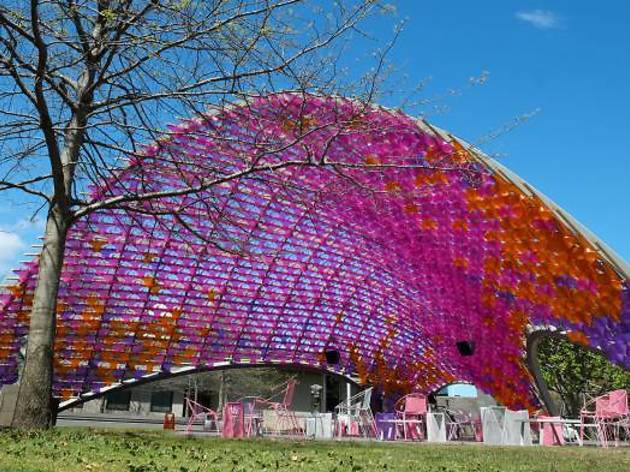 2/6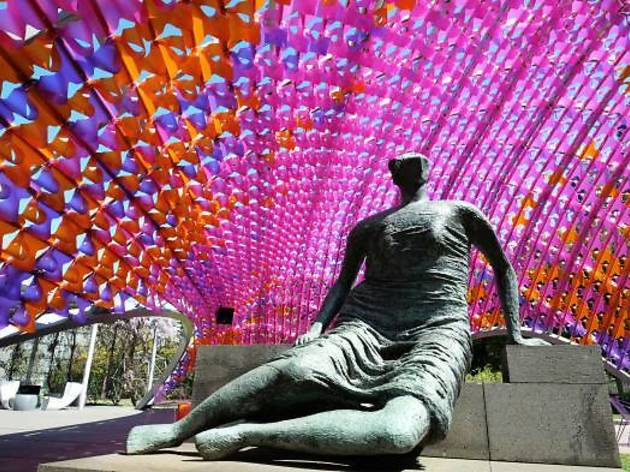 3/6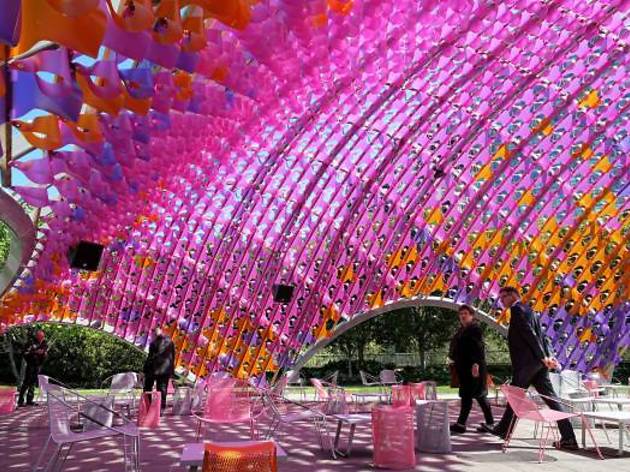 4/6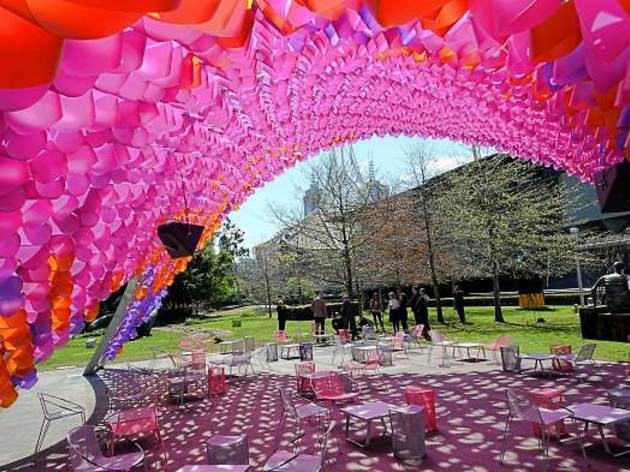 5/6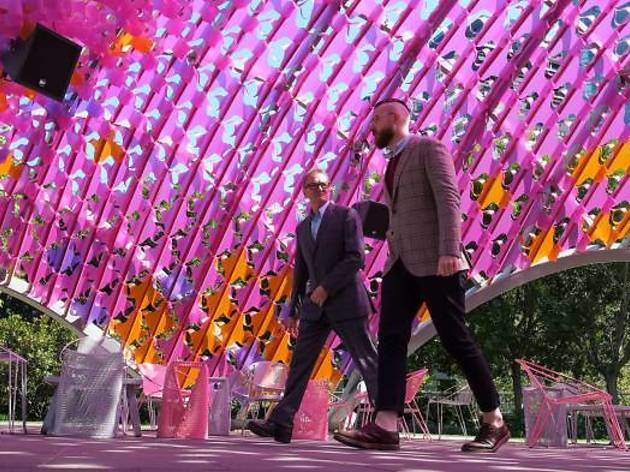 6/6
The NGV's first-ever pop-up architectural commission is a luminous nine metre-high structure – and the perfect spot for a great line-up of summer events
If you've noticed an increase in design-based exhibitions and events recently – Nordic Cool and the re-invigorated Rigg Design Prize, for a start – then you won't be surprised to hear that earlier this year, the NGV established its first Department of Contemporary Design and Architecture. It's the first initiative of its kind for an Australian art gallery, representing the NGV's commitment to becoming a leading international hub for design.
Which leads us to the 2015 Summer Architecture Commission by John Wardle Architects. The nine metre-high, 18 metre-wide hemisphere soars over the NGV's serene sculpture garden. The outer shell is made from lightweight precision-engineered steel and timber – but it's the 1,350 sheets of hand-folded polypropylene that give it colour and texture, casting dappled pink light as the sun shines through and shivering at the slightest breeze. After all, this isn't a structure built to last forever: part of its beauty is its transience.
"Remember when you were a kid and you had book with plastic covers? It's that stuff," says Mathew van Kooy, an architect who worked alongside John Wardle on the project. "We needed a flat material that would allow us to create a three-dimensional surface which would hold its shape, so fabrics don't really work. Polypropylene is a good material because it's easy to recycle… and it's all locally made."
Once the long process of experimentation was complete, the structure – which is inspired by the Sidney Myer Music Bowl – took just ten days to build. "[John Wardle Architects] haven't done a temporary structure before," says van Kooy. "I suppose it's an odd thing because it's a combination of technology and craft." The architects are pleased with the result; van Kooy was surprised at how bright the space is, even on a dull day.
The structure will stay up until May 1, and is free to visit in the sculpture garden. Look out for special events this summer where the space will be transformed into a home for live music performances, panel discussions, kids' activities and picnics.
Pictured L-R: Alex Peck, John Wardle, Mathew van Kooy (John Wardle Architects).
Venue name:
2015 Summer Architecture Commission: John Wardle Architects
Contact:
Address:
NGV International
180 St Kilda Rd
Melbourne
3006

Transport:
Nearby stations: Flinders St