ACMI X: Interview with ACMI CEO Katrina Sedgwick
Is this the future of the workplace? ACMI's new co-working space ACMI X offers a collaborative hub for Melbourne's creatives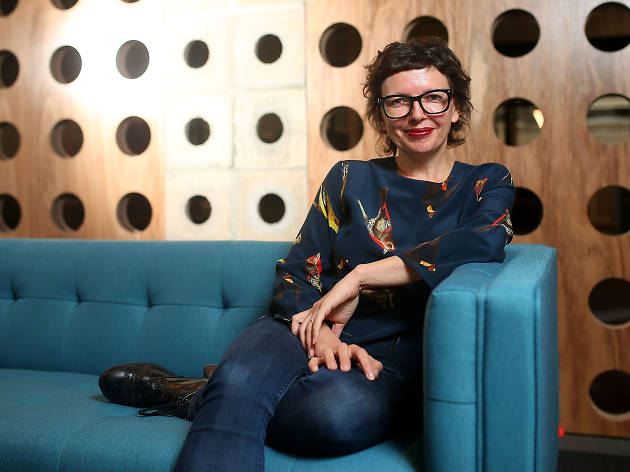 What business does a cultural institution have opening up co-working space? Everything, according to Katrina Sedgwick, who took the helm of the Australian Centre for the Moving Image (ACMI) in 2015. ACMI X is a co-working space that houses the museum's 120 full-time staff, the National Film and Sound Archive office, as well as space for over 60 tenants. In many ways, it mirrors the museum's philosophy of multi-disciplinary collaboration.
ACMI X's journey started when Sedgwick became CEO and director at ACMI in February 2015, and began thinking more "holistically" about what ACMI offers to Melbourne. "We wanted to consider how we make the most of ACMI's strength as a cultural institution that engages right across the creative industries," she says. "Our lease happened to be running out for our old office and we pitched the idea by asking why don't we bring in the people who we would work with at the end point of their work and work alongside them throughout the process?"
"As a 21st-century museum, we're not just about showing the finished work for people to view, it's much more participatory and responsive. In the creative industry too, there's a blurring between platforms, but there's still a need for specialist skills. ACMI X's open-plan workspace offers the proximity for spontaneous conversations to blossom between say, a digital company and a theatre group, or a virtual reality producer and an app developer."
Melbourne's reputation as an incubator for creatives and startups meant that in recent years, there's a been a boom in co-working spaces following the influx of workers moving into the entrepreneurial space. Spaces like Richmond's Inspire9, and Queens Collective and York Butter Factory in the CBD all offer an all-inclusive home base for small businesses. Tenants typically get access to everything from high-speed internet to chill out spaces, whether they're hotdesking or signing on to a long-term lease.
The appeal of this arrangement to workers, ACMI X studio manager Emma Shearman explains, is the ability to draw on an easily accessible pool of talent across different industries. "At the moment, I'm focusing on fostering a culture where true collaboration can happen by getting a mix of people with skill sets that will work well together. We'll also be running a program of industry events – drawing on our industry connections and partner to host events like talks and pitch sessions."
Sedgwick thinks that the future of Melbourne's economy will be bolstered by these inter-disciplinary collaborations that co-working spaces encourage. Tech startups have been among the most fervent adopters of the co-working space model, but ACMI X may well show arts-based companies that this is the way forward. "It's an interesting experiment for us; in a way we're bringing the concept of the [arts] collective to the future."