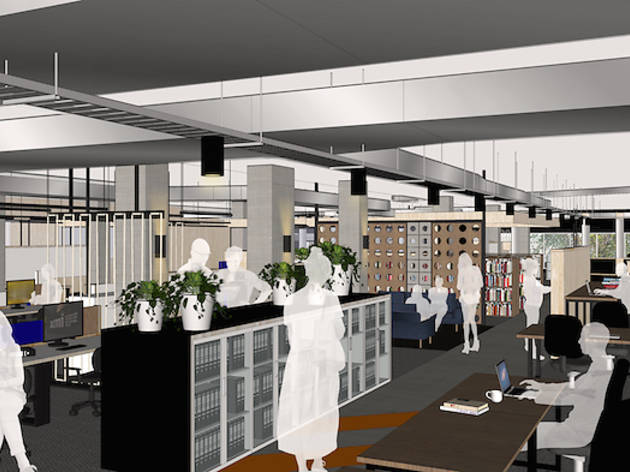 ACMI will be the first major cultural institution in Australia to set up a co-working space for creative industries – here's what we know about it so far
If you're working in a creative industry, then you'll know that one of the biggest challenges in the sector is finding affordable working spaces – even more so if you hope to work alongside other creatives.
Enter ACMI X – a state-of-the-art workspace for the creative industries that could just be the office of your dreams.
Last year, the Australian Centre for the Museum Image appointed Katrina Sedgwick as director and CEO. One of her major goals is to bridge the gap between ACMI as a cultural institution and the city's creative practitioners, which in the long term will help to grow Victoria's $23 billion creative economy.
"ACMI has a unique remit through its celebration of the moving image right across the creative industries," says Sedgwick. "With ACMI X we are deepening this, by creating a new arm of our institution which supports artists and industry as an active enabler in the development of their art, work and business."
Applications for short- and long-term places are now open, and there are just 60 of them up for grabs. The space – which will be located in Southbank – has been designed by cutting-edge Melbourne-based group Six Degrees, and will cover 2000 square metres. Workers can expect high speed internet, an event space, meeting rooms, bicycle parking, a café area and a curated program of professional development opportunities.
As long as you're working with the moving image, you're welcome to apply: that applies to tech start-ups, filmmakers, game and app developers, web and graphic designers, script writers, visual arts and theatre makers.
Workers will share ACMI X with ACMI's operational offices, creating what ACMI has dubbed a "dynamic engine room for the museum of the 21st Century". Exactly how much collaboration will take place between ACMI's staff and the ACMI X workers remains to be seen; stay tuned for more information.
Venue name:
ACMI X Studio
Contact:
Address:
Southbank
Southbank
Melbourne
3006