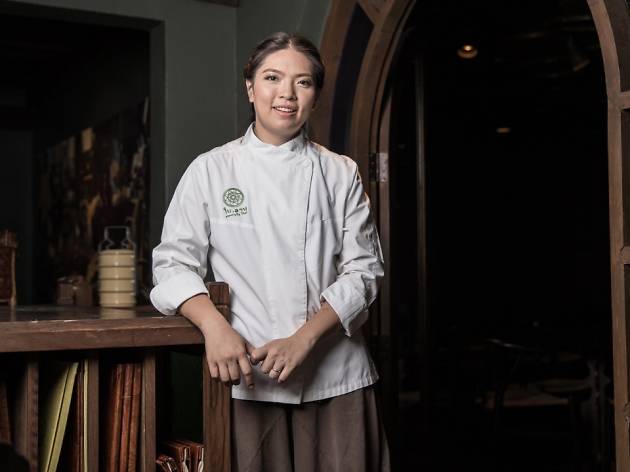 Time Out says
Internationally famous kitchen aces line up to serve at the Australian Open
Every year, thousands head to Melbourne Park to watch the superstars of tennis battle it out for a Grand Slam title. But just across the road, the Australian Open is serving up another ace on the court for 2020: the AO Chef Series.
For the third year running, the Australian Open will be bringing superior culinary experiences to Melbourne in a pop-up restaurant at the Glasshouse on Olympic Boulevard.
Four A-list chefs will be putting on exclusive dining experiences across the entirety of the Australian Open tournament. These culinary events allow guests to interact and learn from high-class international chefs including Australian food editor and cookbook icon, Donna Hay; head chef of impeccable Hobart restaurant Franklin, Analiese Gregory; chef and partner of exceptional Bangkok restaurant Bo.Ian, Duangporn 'Bo' Songvisava; and restaurateur, TV host and MasterChef alum, Sarah Todd. Each feast will be a multi-course degustation-style experience that shows off each chef's signature style and will be paired with matched wines – not to mention exciting dinner conversation.
Let's get to know the chefs participating in 2020's exciting AO Chef Series, shall we?
Donna Hay. Photograph: Supplied
Where would the food world be without the Donna Hay empire? Her signature styling and easy-to-follow meals have made their way into the homes, hearts and stomachs of many Australians. But it's not only her best-selling cookbooks or her gorgeously styled magazines that we're obsessed with – there's even her clean-cut, functional and affordable homewares that have crept into every home cook's kitchen as well. See this food industry titan cook up something truly special at the AO Chef Series in January. Donna Hay is presenting dinner on Friday, January 24 and Saturday, January 25.
Analiese Gregory. Photograph: Supplied
There's a reason advance bookings are essential for Hobart's consistently popular Franklin restaurant, and it has a lot to do with former head chef Analiese Gregory, who recently departed the award-winning restaurant. When this Auckland-born chef took over David Moyle's reins at Franklin in 2017, she found herself homing in on great local produce from the bounty of independent producers found all over Tassie. Seafood features heavily, but there's also a DIY attitude at Franklin that sees the team cure their own meats, bake their own bread and age their own cheese. It's that from-scratch mentality – and Gregory's passion – that keeps people coming back. If you missed her stint at Franklin, Annaliese Gregory is presenting dinner on Sunday, January 26 and Monday, January 27.
Duangporn "Bo" Songvisava. Photograph: Supplied
You may recognise Duangporn "Bo" Songvisava from her profile on Netflix's food series Chef's Table. Bo, alongside her husband chef Dylan Jones, owns and operates Bo.Ian, a restaurant in Bangkok's Sukhumvit neighbourhood. Our friends over at Time Out Bangkok once said that the hype of upscale Thai food "owes so much" to Bo.Ian. "The wife-and-husband team embarked on a culinary journey far beyond everyday Thai fare, traveling back in time to rediscover what Thai food was before everything was altered by modern conveniences." Bo Songvisava is presenting dinner on Monday, January 20 and Tuesday, January 21.
Sarah Todd. Photograph: Supplied
When Sarah Todd got eliminated on season six of MasterChef Australia, it didn't mark the end of her cheffing career. It sparked a new beginning, with Todd going on to open 400-seat casual diner Antares Restaurant and Beach Club on the shores of Small Vagator Beach in Goa, India. With a passion for Indian flavours and now a second home in Goa, the classically trained chef has gone on to release a cookbook and feature on cooking shows on SBS and Fox Life India. Sarah Todd is presenting dinner on Wednesday, January 22 and Thursday, January 23.
Your seat at the AO Chef Series also includes a ground pass to the Australian Open, with the option to upgrade to a stadium ticket. All AO Chef Series meals will take place before the evening tennis matches. Guests will be welcomed from 4pm with dinner commencing at 4.30pm. The tennis will begin at 7pm.
For more information about the AO Chef Series and to book, head to the Australian Open website here.
Details
Users say