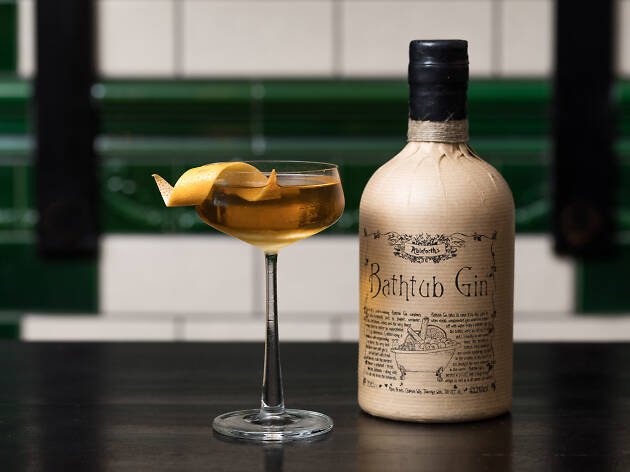 Become a master mixologist in seven days with these seven Ableforth's cocktails
Crafting and savouring these boozy beauties will be a week well spent
When you've been sipping the freshest spirits and most inventive cocktails for a few years (guilty) you develop a discerning taste. Ableforth's understands your distilled standards, and they've developed a range of spirits to match.
Those seeking savoury, complex and adaptable flavour profiles should investigate Ableforth's Bathtub Gin. It's painstakingly prepared, first through a copper-pot distillation with the juniper base and other fragrant botanicals. Then a minimum seven-day infusion of zesty orange, spicy-sweet cassia, citrussy coriander seed, warming cardamom and cloves are gently introduced to the gin, and each of these flavours shines through abundantly in the bottled beverage.
It takes no less than seven carefully monitored days to eke every bit of distinctive flavour out of these fresh ingredients. In between shifts, the Ableforth's mixologists have developed seven cocktail recipes – one to suit your mood, no matter what day of the week it is – that make the most out of their prize concoctions.
Photograph: Piers Cunliffe
Make Monday classy with a Negroni. It's a simple but effective combination of equal parts Bathtub Gin, Campari and sweet vermouth stirred over ice and served with orange peel zest.
After a hectic Tuesday, shake together Ableforth's Bathtub Gin, a dash of sugar syrup, fresh lemon juice and mint leaves and you've got yourself a snazzing Southside. Next on the list is Ableforth's Blood and Sand cocktail. It's a mix of their delightfully sticky cherry brandy, Scotch whisky, sweet vermouth and freshly squeezed orange juice. Shake it all together and pour into your classiest coupe glass.
On Thursday, mix things up with Ableforth's Cherry Sour. Take their cherry brandy (made using XO Cognac) and introduce it to lemon juice, sugar syrup and bitters before you shake them into a happy, tangy family. Then at quitting time on Friday, pretend you're lazing on a beach with this marvelous Mai Tai. It's a sweet-meets-floral mix of Ableforth's Rumbullion! – a vanilla and orange-heavy spiced Carribean rum – triple sec, lime juice and the cooling floral and almond addition of orgeat.
Take it back to the classics on Saturday with an Old Fashioned that features the high-proof Rumbullion!, sugar syrup and bitters stirred over ice with an orange peel garnish. Then, finish your weekend on a high with Ableforth's Spiced Daiquiri. While you might be used to a white rum Daiquiri swimming in crushed ice, Ableforth's version keeps it elegant and simple, shaking a double dose of Rumbullion! with sugar syrup and lime for a clean pour.
Once you reach the end of this well-spent week of shaking, stirring and experimenting, why not show off your skills making these distinctively delicious drinks at your next family do or house party? You can get $10 off the regular retail price of bottle of Bathtub Gin at Vintage Cellars.
Win a $1,000 week well spent thanks to Ableforth's Bathtub Gin.
Best selling Time Out Offers