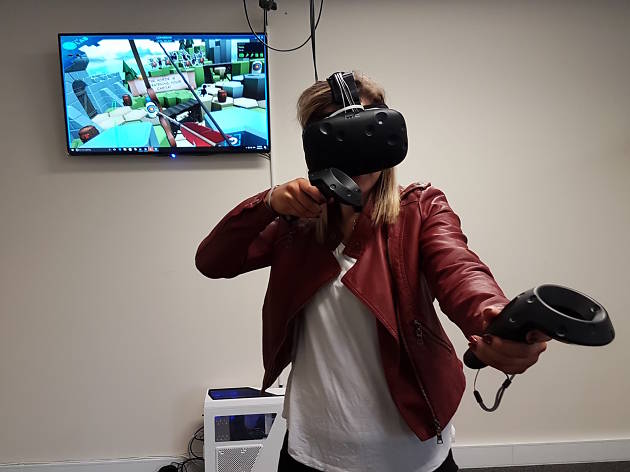 Strap on your headset and say goodbye to Melbourne: virtual reality is very much here
In case you haven't noticed, virtual reality (VR) technology is no longer a thing of science fiction. In the last 12 months, companies including Oculus, Samsung, HTC and Google released their own VR headsets at prices accessible to consumers. It's been touted as the next frontier for the gaming industry, and a new experimental art form for filmmakers. As the technology improves, artists are creating increasingly immersive three-dimensional worlds; and naturally, we as consumers are desperate to enter them.
One portal into the VR world is Black Site VR in Springvale. It's a dedicated space for gamers and the VR-curious to choose from a host of games and experiences, and on the weekends, it's packed. "It's pretty much what everyone wanted back in the '80s and '90s!" says TJ Dash, store manager at Black Site. "It's how you imagine it to be; you put on some goggles, you look around a 360-degree space and you're somewhere else."
Today, I'm venturing into the virtual world for the first time. I step into a small square room, several metres in width. A HTC Vive headset and two controllers – one for each hand – hang from a cord in the ceiling. I put on my headset, grip the controllers, and Dash selects my first game. Everything goes black for a moment. Then, I'm standing on a turret of a medieval castle. At first, it's difficult to figure out why this feels disconcerting, but then it dawns on me: I'm not watching this world on a screen; I'm inside the world; all 360 degrees of it. I move my hands, and realise I'm clutching a bow and arrow. I raise my weapon, pull back on the string, shoot an arrow into the distance, and hit an invading soldier.
From there, things get stranger. I dive down with a shipwreck and brush past a blue whale; I cook bacon and eggs as a chef in a game called Job Simulator (which Dash tells me is bizarrely popular with children) and I attempt to shoot zombies while my hands shake in fear. I'm not in Springvale anymore, and I'm loving it.
Black Site VR isn't the only place to go virtual. Brave souls can slay zombies in a warehouse in North Melbourne at Zero Latency and those wishing to simply observe can visit the just-opened Virtual Reality Cinema in Collingwood.
For a stunning VR experience that is not interactive, yet equally immersive, book into a free viewing of Collisions at ACMI; the first-ever VR film to tell a story about Indigenous Australians. Read more about Collisions.
Venue name:
Black Site VR
Contact:
Address:
Upstairs, Suite 11
303 Springvale Rd
Melbourne
3171

Opening hours:
Mon-Thu 1-7pm; Fri-Sun 11am-9pm
Price:
$35 for 40 minutes