Caviar Week at the Messina Creative Department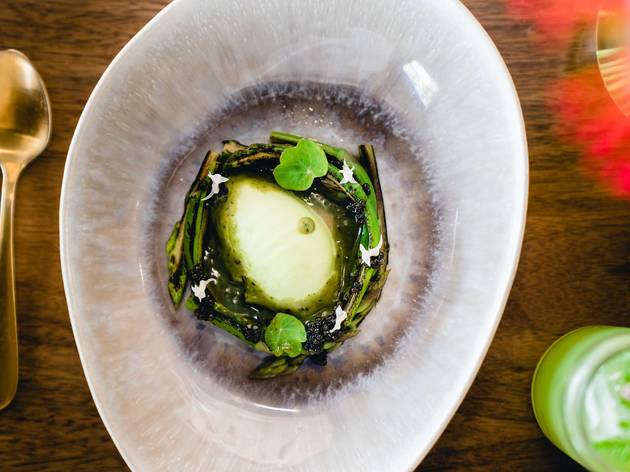 [Sponsored] Discover a different way to enjoy Messina at the caviar and gelato degustation
Gelato Messina is known for its wild and wicked flavour combinations. Their "hold nothing back" approach to making gelato has won them a huge following with flavours like salted coconut and mango, panna cotta and fig jam, and pistachio praline. So we're not surprised one bit that the gelato geniuses are curating a one-off eight-course dinner combining savoury gelato and (wait for it) caviar.
Messina's Caviar Week (November 9 to11) will see their Creative Department head chef Remi Talbot create an eight-course, caviar-focused menu. The dinner is a first for Messina's Creative Department, the brand's intimate and opulent dining experience situated in Windsor. While the combination of top quality seafood and gelato might seem unusual, regulars to the Creative Department's degustations will know just how seamlessly Talbot and his team can turn gelato into a savoury experience.
The Caviar Week degustation pairs fresh, quality seafood (such as internationally sourced caviar and crustaceans) alongside the silky smooth gelato Messina is known for. Dishes included in the degustation include a Thai basil and lime granita with lime caviar; a walnut milk custard with mountain caviar; lemon myrtle sherbet with green peas, mint, kefir buttermilk and caviar; buffalo milk ricotta gelato with soy-cured egg yolk, sweet corn, crispy yuba and caviar; and white garlic gelato with charcoal-burnt hapuka, ravigote sauce and caviar.
Every dish is expertly paired with a non-alcoholic drink (we're particularly curious to try the Chinotto and sage kombucha) and there's even a dessert course at the end of the degustation for sweet tooths. Can't make this special event? The Messina Creative Department also does regular eight-course sweet and savoury gelato degustations with paired drinks.
Tickets for Messina's Caviar Week degustation at Creative Department can be booked online now.