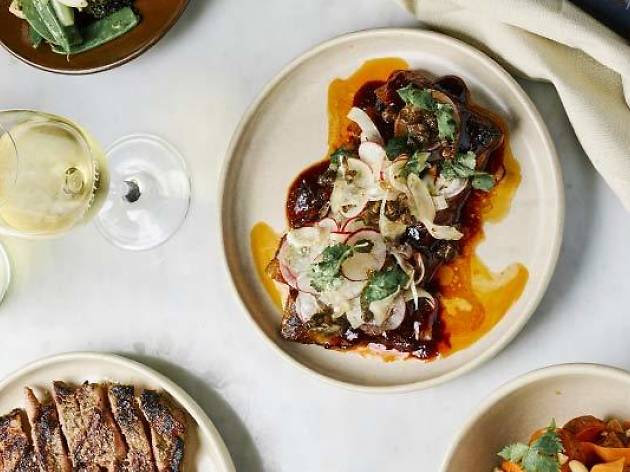 Celebrate Peruvian culture with Carnaval at Pastuso
Spend July partying Peruvian-style at Pastuso with these three outstanding food events
Over at Pastuso they're keeping winter raring hot with a month-long series of events to celebrate Peruvian Independence day on July 28. Go on a gastronomic adventure with chef Alejandro Saravia and discover the flavour and fun of the country's cuisine with masterclasses and a massive Independence Day feast.
Whether you're a hands-on gourmand or just love to eat, there's something to love at this month-long Peruvian food fest. But first, a drink.
Peruvian Pisco Masterclasses Jul 7 & 21, 4.30-5.30pm, $45
Pastuso is hosting two pisco masterclasses during July where guests will get to taste the most exclusive piscos on the market as well as learn how to make the restaurant's delicious Pisco Sour. Pastuso's resident pisco experts will share the history of the 400-year-old spirit. Price includes three piscos and snacks.
I Love Ceviche – Ceviche Masterclass Sat Jul 14, 1.30-3pm, $65
Follow up your pisco bootcamp with another Peruvian classic: ceviche. Join chef Alejandro Saravia and learn how to make the perfect ceviche and discover how to select the best seafood to create the simple, delicate but oh-so tasty Peruvian dish (tip: pay attention to the seasons). Price includes four-course meal and a Pisco Sour.
Carnaval Sun Jul 29, 1-4pm, $95-$140
If you only do one thing at Pastuso this July, though, make sure it's Carnaval. This mega Peruvian feast not only champions the nation's most delectable dishes, but the culture too, with the party spilling out onto ACDC Lane. Fill your belly with modern Peruvian fare created by Alejandro Saravia and his team, who have based the menu on diversity of Peru. Feast on a six-course menu ($95) that will take your tastebuds from the Peruvian coast to the heights of the Andes and the lush depths of the Amazon rainforest. Add matched wines (an extra $45) and your South American blowout is complete.
Tickets for Pastuso's July Carnaval celebrations can be booked via their website.
Best selling Time Out Offers