1/4
Photograph: Supplied
2/4
Photograph: Supplied
3/4
Photograph: Supplied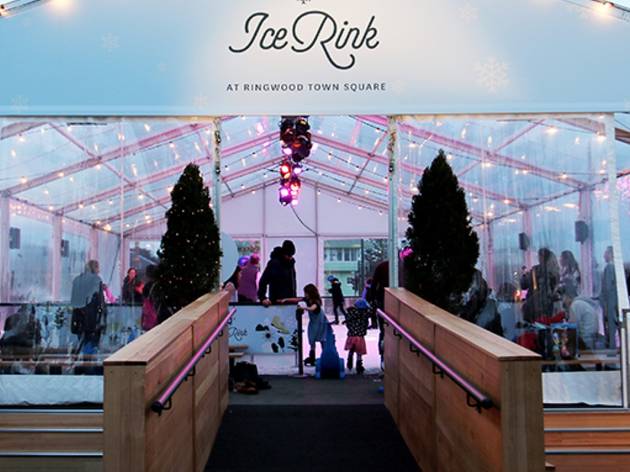 4/4
Photograph: Supplied
[Sponsored] Eastland is launching its own custom built, all-weather ice skating rink this winter
Strap those skates on, an all-weather ice skating rink has opened at Eastland.
This winter wonder is no doubt a trip down memory lane for eastside locals who once visited Ringwood's Iceland, Australia's first custom-built ice-skating rink, which sadly closed its doors in 2005.
Eastland's custom-built rink is back for its second year and this time there's more of it to enjoy. Due to last year's popularity Eastland has increased the rink's size to 250 metres, 20 per cent larger than in 2017. Guests of all skill levels are invited to glide around the larger rink while surrounded by snow-topped trees and twinkling lights. The rink is covered by a marquee so you can live out your winter wonderland fantasies during rain, hail or shine.
New to the Eastland Ice Rink this year is a series of themed days and nights. Relive your favourite '80s, '90s and '00s tunes while skating up a storm with Eastland's Throwback Tuesdays, or bring your date down for the super cool R'n'B Fridays. The rink will also be hosting Sunday Family Fun days where families can not only skate, but enjoy face painting, children's entertainment and kid-friendly music.
On Sunday mornings between 10am and 11am the rink will be open to children and adults with special needs – because everyone should be able to feel safe and secure (and have fun) on the ice. Bubs and toddlers can enjoy the rink as well with a 20-minute ice show and kids entertainment on Tiny Tots Thursdays. Adults who've never skated (but always wanted to try) can sign up for lessons, and you can also nab two-for-one tix after 5pm on Mondays, Tuesdays and Wednesdays (offer valid on normal ticket purchases and Town Square redemption offer).
Tickets are $12 for children and $22 for adults, but shoppers who spend $20 or more at Eastland Town Square receive free entry. With the square containing mouthwatering dining options like Jimmy Grants, Abacus All Day, 400 Gradi, Paco's Tacos, Huxtaburger, Kyoto Café and Thai Alley, it's easy to eat and get a free skate in after a meal. If you grab a winter read from Robinsons Bookshop, a new hairdo from the Original Barber or some swish threads from Martin York you can get a free skate ticket. Skate sessions are 45 minutes long and tickets can be bought online or at the on-site box office.
Eastland Ice Rink is open every day from June 23. The ring will remain open until late August and there will be extended opening hours during the Victorian winter school holidays (the rink will open from 10am every day instead of 11am).