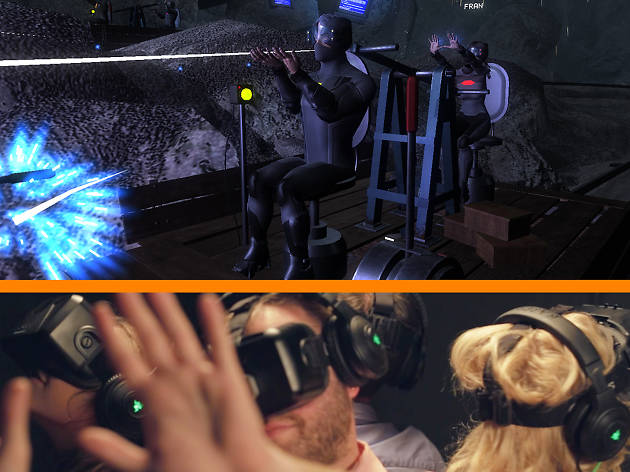 Time Out says
Strap in for virtual puzzle-solving, flying and even fighting giant monsters at this VR escape room
We at Time Out love an escape room, the challenge of being locked in a room and forced to solve puzzles as the clock ticks down. We've played enough escape rooms that we thought we knew the drill: you solve puzzles to find codes and keys, which you use around the room to unlock yet more puzzles. But what if you could do an entire escape room without ever leaving your chair?
We decided to find out at Entermission, which is a virtual reality escape room. There are two missions here, Space Heroes and Mad Mind. We chose the latter, which is a journey into the mind of a dying madman who has kidnapped a child. Our mission is to unlock his hidden memories and discover where the child is hidden.
We are given VR headsets and settled comfortably in leather chairs. Suddenly we can see each other in the virtual world, rather than the real one, and we need to work together to solve the puzzle in front of us. To do that, we also need to figure out how to pick up objects, hand them to each other, and move around our virtual surrounds while remaining in place in the real world.
Because it is much harder to physically move around in this virtual space, the puzzles themselves are much easier than you would find in an IRL escape room. There are not a lot of places to explore, and the storytelling is linear. No red herrings distract you, and it's clear what goes with what. That's a good thing, because it's hard enough to figure out how to get your avatar to swim or fly while you yourself are sitting motionless in a room.
The experience is a blend of a VR ride and an escape game, with sensations selling the feeling that you're falling, floating, swimming or in dusty caves. There are monsters to battle, too, which is more videogame than escape room.
If you're prone to motion sickness, the experience might not be always comfortable for you. You can always take off your headset if you need a break, and you can control your own speed when you're moving around in the virtual world. We took motion sickness tablets before going in, and for the most part, we were fine.
Outcome: Success!
Atmosphere: 3/5
Creativity of puzzles: 3/5
Difficulty: 2/5
Fun: 4/5
Best quote: "I don't mean to alarm you, but there's a giant spider behind your head."
Our tip: Watch out for the fish.
Details
Best selling Time Out Offers