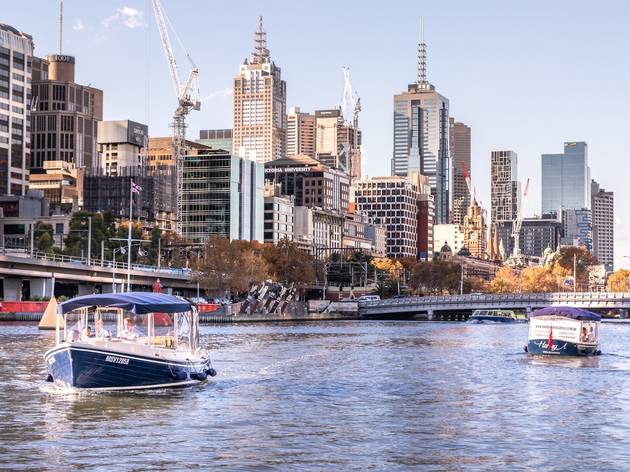 Five gorgeous ways to enjoy Melbourne from the Yarra River
Have a brilliant time with your mates, treat that special someone or even get married on the water
In some ways, the Yarra River defines Melbourne. People have been living at its mouth for tens of thousands of years, and there are plenty of Melburnians who define their identities by refusing to cross it.
The Yarra is the lifeblood of the city, meandering through the CBD from Port Melbourne up through Templestowe and beyond. And one of the most fun (and most, well, Melbourne) ways to enjoy the city is on a boat cruising down the Yarra.
That's where Melbourne Boat Hire comes in. The company has numerous options, from eco-friendly boats you can drive yourself up through romantic dinner cruises and even onboard private events like weddings. There are luxury options for couples and groups, as well as celebrations of all kinds.
There are boats available for Melbourne's notoriously fickle weather, too, so there's no need to stress if the weather looks inclement. It's the ideal way to celebrate any occasion, or to make an occasion out of any day.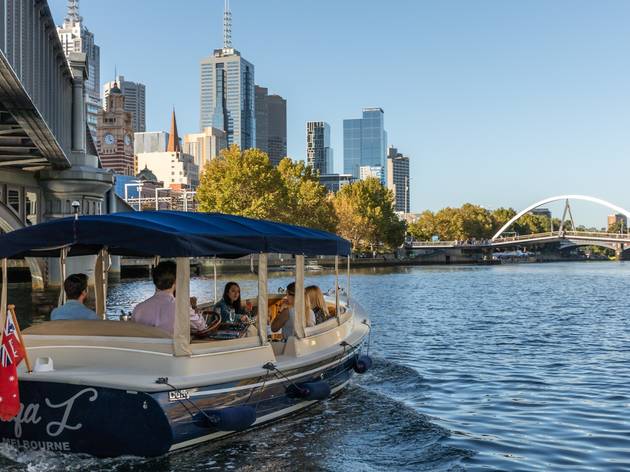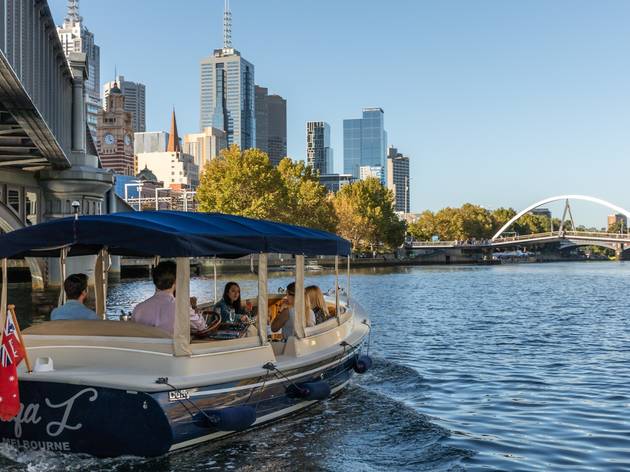 Photograph: Melbourne Boat Hire
1. Hire a boat to drive yourself
Who hasn't dreamt of taking to the water on their own boat? You can live this dream on the Yarra River, and you don't even need a boat licence. The company has luxury, eco-friendly boats available for hire, and they can take either ten or 12 people at a time. The boats are surprisingly easy to drive, making boating not only safe, but also fun – seven days a week.
The boats come with an onboard Bluetooth stereo, esky and fridge, so you and your crew can bring supplies for a picnic onboard. Or you can drop anchor (well, tie up) anywhere in the city to have a picnic or barbecue at the Royal Botanic Gardens or Herring Island, only accessible by boat.
Rather someone else did the cooking? You can tie the boat up along the banks of the river and head to lunch on land, or for a really special treat, you can book a food and beverage package to enjoy onboard. Choices include platters like seafood, pizza or sliders.
Worried about bad weather? Don't be; the boat can be fully enclosed so everyone stays warm and comfortable. The larger 12-person boats also include an onboard toilet. All you have to do is decide who will do the driving – and whether you'll ask your mates to call you 'skipper'.
Self-driving boats are available for two or four hours, and they start from $299.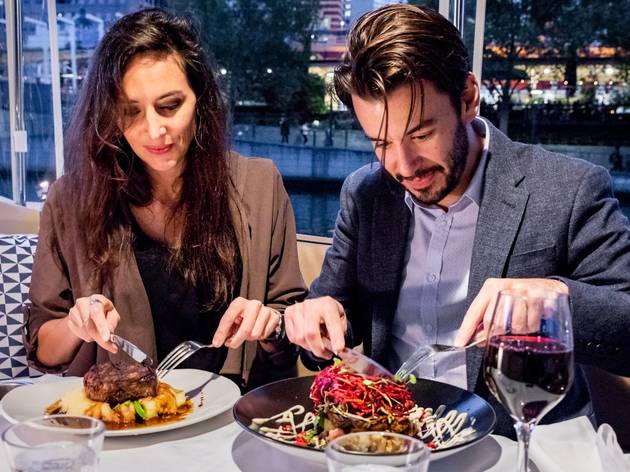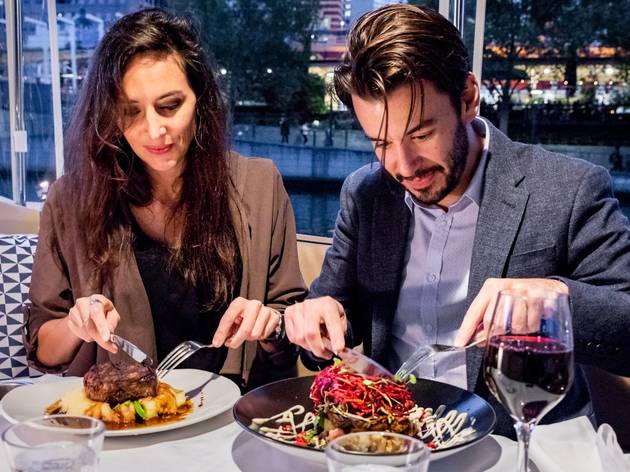 Photograph: Melbourne Boat Hire
2. Take your special someone for a private dinner cruise
Sure, you could take your special someone to a fancy restaurant for dinner, but for a far more romantic and exciting experience, try a three-course meal while cruising down the river, with the lights of Melbourne twinkling past the windows. There is nothing else quite like this in Melbourne, and your love will be sure to remember it forever.
The luxurious and eco-friendly boats are heated to the perfect ambient temperature, so there are no worries of the night-time chill spoiling your evening. The 1.5-hour cruise starts and ends in Docklands and takes you through Melbourne's CBD, past landmarks that will look completely different from a waterside vantage point.
To start, you and your partner will share a platter, either seafood or antipasto. Dinner choices include steak, chicken risotto, pork with miso and honey, and snapper. Of course, dessert is included, as are sparkling, red or white wine, beer, soft drinks and sparkling and still water.
The boat is driven by an experienced skipper, so all you need to do is enjoy the ambience and your partner's company. This one-of-a-kind dinner cruise is perfect for birthdays, anniversaries or special occasions of any kind.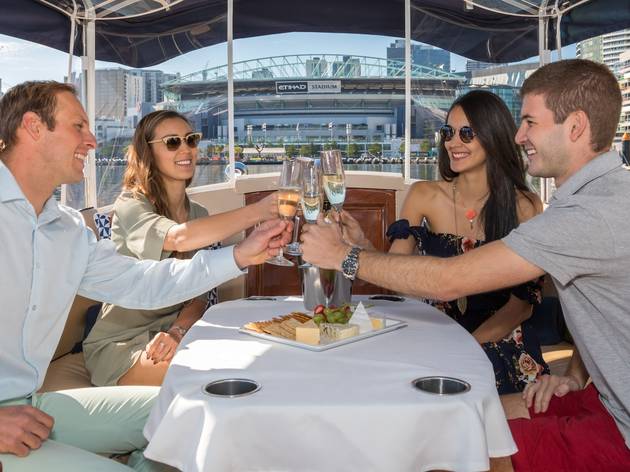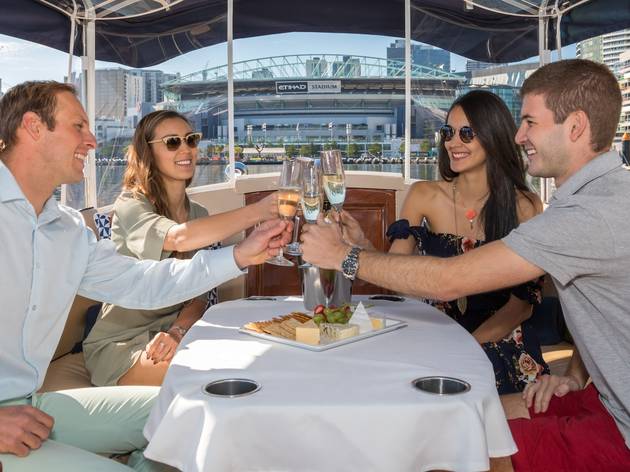 Photograph: Melbourne Boat Hire
3. Take five mates on a wine and cheese cruise
What could be better than cruising down the Yarra with five friends? Cruising down the Yarra with five friends, a cheese platter and a bottle of wine, of course.
The private luxury cruise is skippered by a crew of experts, so you and your mates can enjoy the views, a cheese platter and a bottle of either sparkling wine, shiraz, chardonnay or pinot noir. The one-and-a-half-hour round trip leaves from and returns to Docklands, so you'll cruise through the CBD, making passersby plenty jealous. Additional drinks can be purchased onboard, and you'll be travelling in comfort and style aboard a luxury, eco-friendly vessel.
The all-inclusive cruise for six people is $440.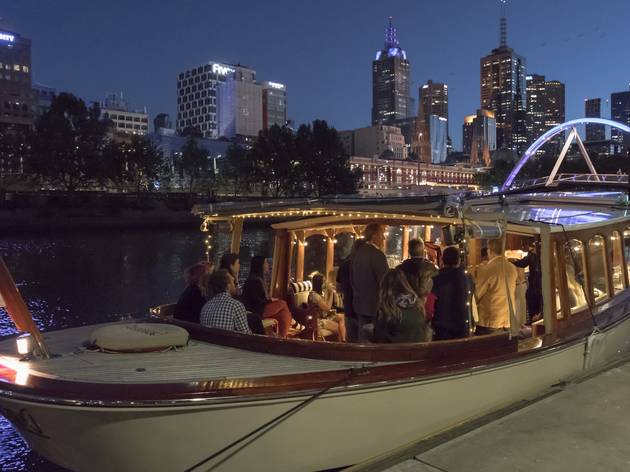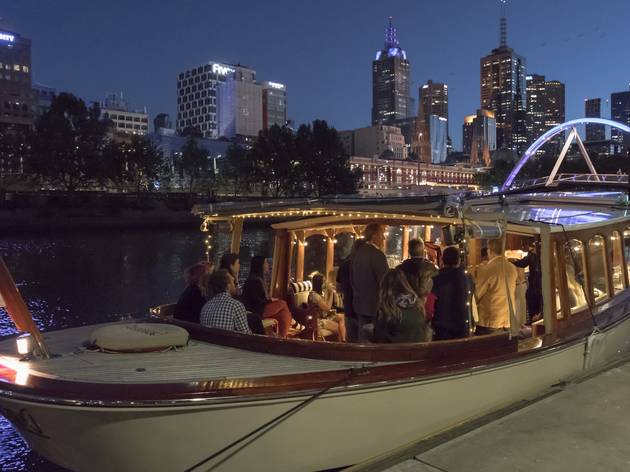 Photograph: Melbourne Boat Hire
4. Hire a private boat for up to 35 people
Looking for somewhere to hold a birthday party, an engagement party, a Christmas party or any other kind of special event? Sure, you could book out a restaurant, but what is that compared to the glamour of your own private boat?
Melbourne Boat Hire's boat the Birrarung is specially designed to navigate Melbourne's low bridges while onboard guests kick up their heels. The boat is the most luxurious available to hire in Melbourne, so it's sure to impress. It includes a fully equipped bar and kitchen area, with a purpose-built esky designed to keep drinks cold and always topped up with ice.
You can bring your own food and drink, or leave it to the experts and purchase a food and beverage package. Facilities onboard include an open saloon deck, indoor and outdoor seating, and plenty of space or up to 35 people.
The electric motor means the boat is quiet and eco-friendly, so you'll be listening to onboard tunes or conversation, not the roar of a dirty engine.
Prices start from $1,760 for two hours.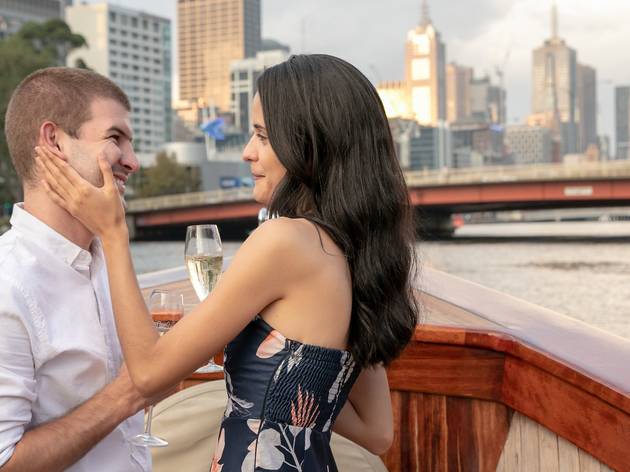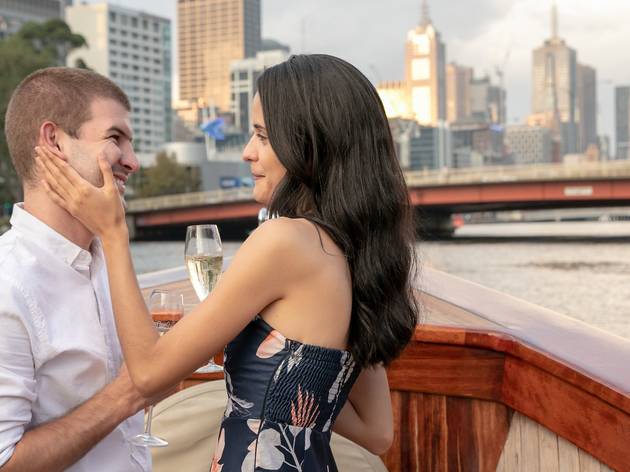 Photograph: Supplied
5. Get married on a private boat cruise
Melbourne Boat Hire's luxury Birrarung boat is the perfect venue for small weddings. Able to accommodate up to 35 people, it includes indoor and outdoor seating, as well as a fully equipped kitchen and bar area.
The boat is whisper quiet, thanks to an eco-friendly electric motor, so no one will strain to hear the happy couple say their 'I do's.
The Birrarung is available seven days a week, for daytime or night sailing, so it's able to accommodate any kind of small wedding. Self-catering is available, or you can purchase a food and beverage package and leave the catering to someone else on the big day.
If you are planning on a more intimate or private nuptials of ten people or fewer, then ten-person vessel the Pia Mae is available too.

It could not get any more Melbourne than getting married while cruising down the Yarra – no hotel or function centre could compare.