Five Taste of Melbourne hacks
Make the most of your food festival experience with some secret hacks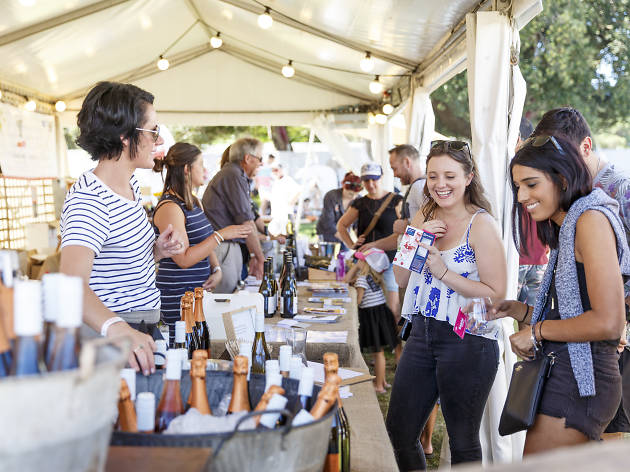 Taste of Melbourne (Nov 30 - Dec 3), Melbourne's annual festival for food-lovers is turning ten, and expanding to the MCG-adjacent Yarra Park to celebrate. The location may have moved, but the festival's best bits have come along for the ride, and that means delicious restaurant feasts and exclusive experiences that will showcase the best of Melbourne's restaurant and bar scene. To tackle Taste like a pro, follow these A+ hacks.
1: Get discounted tickets
Taste of Melbourne runs in lunch and dinner sessions and tickets range from single entry passes that start from $25 to Taste Luxe Lounge bundles which offer access to VIP amenities (from $130). You can get a 15 per cent discount on any pass if you have an American Express Card (excluding tickets to Taste of Melbourne's birthday bash and opening party on November 30).
2: Get fast-tracked entry
Thousands of punters visit each Taste of Melbourne session over the three-day festival, but there are ways to skip the queues. Get a Taste Luxe Lounge bundle to get fast-tracked festival entry and unlimited access to the lounge, where you can enjoy your day in style. All American Express Card Members also have privileged access to the fast-tracked entrance, so you can start tasting your way through the festival as soon as you arrive.
3: Use your personal credit or debit card
The best part of Taste is trying the high-quality dishes from some of Melbourne's best restaurants. This year, it's even easier to sample your new favourite dishes; instead of topping up a Taste 'credit card', you can simply use your own credit or debit card. And if you've got an American Express Card, you'll get a 10 per cent discount on a select dish at all participating merchants. Taste is a cashless festival, so leave your notes at home.
4: Kick back at the American Express Invites Lounge
You're eating restaurant-quality food at Taste – why not have the full restaurant treatment? At the American Express Invites Lounge, a dedicated seating area for American Express Card Members. You'll get your own wait staff, who will deliver made-to-order Taste dishes right to our table from the restaurant stalls, which mean you'll be able to avoid queues even at the busiest pop-up restaurants. Drinks service is excluded from table service.
5: Explore all the new additions to this year's festival
This year's Taste of Melbourne has heaps of new experiences, like the After Dark party that will see street food stalls pop-up with a DJ set for one night only, as well as the Marketplace where you can stock up on edible kitchen essentials and homewares direct from the makers. Taste Festivals Australia director Kristy Austin says, "whether you're a returning Taste fan or if this is your first time, you can still experience the festival in a new way this year."
Find out how to make the most of Taste of Melbourne with American Express.