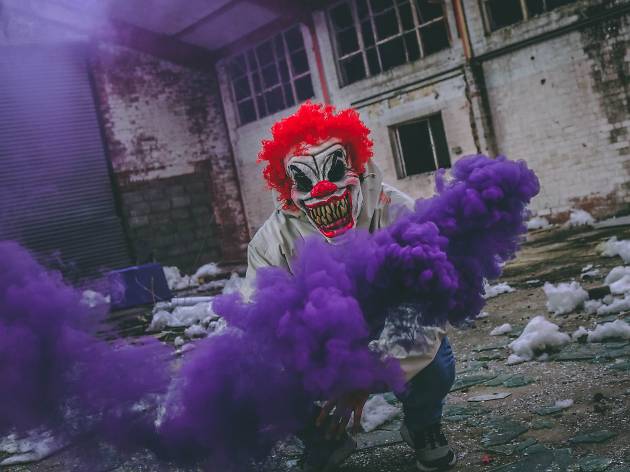 Time Out says
Muster your courage: this Halloween festival isn't for the faint of heart
A huge, immersive Halloween festival is coming to Melbourne for the first time this October. Hauntville is a festival celebrating all things spooky, scary and macabre, and it's popping up at Burnley Circus Park in the lead-up to Halloween.
Scaredy cats are advised not to come – Hauntville isn't for the faint-hearted. At the festival you'll find two hair-raising haunted houses, creepy performers, carnival games, food trucks, the 'Fright Night' bar and a haunted graveyard (tread lightly lest you wake the dead).
Scared of clowns? You will be. Hauntville's Cirque du Slay haunted house is crawling with demonic clowns and creatures summoned by dark forces. Make it through alive and you're ready for the Yarra River Coffinworks, a dank and musty haunted house infested with snakes, spiders, rats and the screams of the undead.
If you need a breather after that, drop into the haunted food festival, where you can grab a bite from food trucks like Bavarian Bangers, Poke Time and 196 Below. Want to imbibe? The Fright Night Bar has just your poison, plus Halloween-themed brews like pumpkin ale and spooky Sangria.
Throughout Hauntville you'll run into zombies, circus freaks and other performers there to make sure you stay scared. Try out the Halloween carnival to play Angry Crows, Zombie Head Ring Toss and to score a peck at the kissing booth (careful – there's a nasty twist). Brave guests can also take a stroll through the haunted graveyard and hear freaky stories.
Despite the fear factor, children are welcome to attend Hauntville, with a number of kid-friendly experiences on offer. Little ghost hunters can explore the Twisted Circus haunted house (a toned-down version of Cirque du Slay), take part in a trick or treat walk, dress up and enter costume competitions or enjoy the carnival games. The organisers do advise that only children over 12 attend Hauntville's 6pm time slots, however.
Hauntville is on over two weekends (Friday to Sunday) starting October 19. Entry to the festival grounds is free, with tickets to the haunted houses available to purchase online and at the on-site box office.
Details
Users say