Kick back at Melbourne Public's Sounds Like Sunday
Extend your weekend at this new Sunday sesh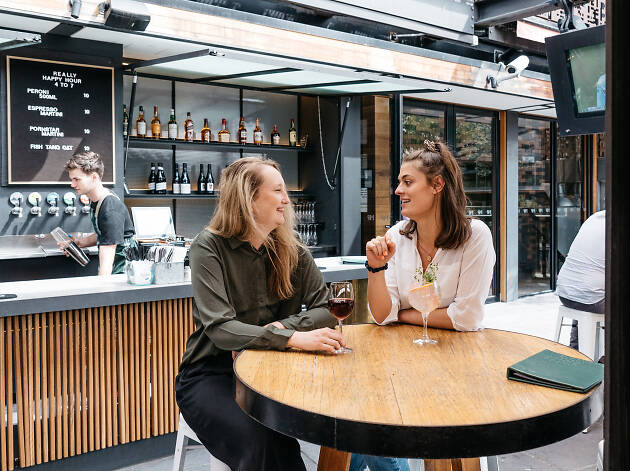 Anyway you look at it, there just isn't enough time in the weekend. Two days to eat, drink and unwind from the trials of the 9-to-5? You're dreaming. Thank goodness some smart cookie invented the Sunday session so you can squeeze as much as possible into your weekend. And the team at Melbourne Public are only too happy to help you.
Sounds Like Sunday is Melbourne Public's new end-of-weekend session determined to help ease your passage back into the working week. Starting over the Labour Day weekend on March 10 the relaxed bar at South Wharf will host the event every Sunday so that you can enjoy your last few hours of freedom with drink specials, sliders and a DJ.
Round up your mates and get down to Melbourne Public on Sunday arvos to take advantage of the cocktail pitchers for $30 as well as happy hour deals. From 4pm until 7pm you can also score an Espresso Martini, Fish Tanq G&T, Pornstar Martini or a pint of Peroni for $10. If you do spend the day at Sounds like Sunday, take a snap and post it with #melbournepublic.
Keeping the good times flowing will be DJ Scott Thompson who will be playing super smooth funk, soul and R'n'B all afternoon. On launch day, he'll also be joined by Taylor Sheridan who'll be playing some of his heart-tugging acoustic tunes live.
Enjoy the vibrant surrounds at South Wharf, Sounds Like Sunday is on weekly from March 10 on the Labour Day weekend at Melbourne Public. Entry is free, though dining bookings are available if you want to guarantee seats. You can even make a weekend of it by staying at Novotel Melbourne South Wharf and shopping at DFO.