Melbourne Festival Feasts
This year, plenty of Melbourne bars and eateries are offering special deals and express meals to make your festival experience even more delicious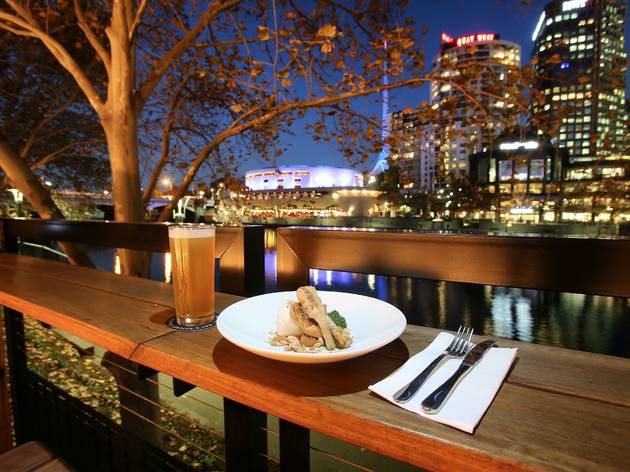 If you're an arts-lover, an adventure-seeker or constantly on the hunt for new experiences, then October is one of the most exciting months to be in Melbourne. The Melbourne Festival (Oct 4-22, 2017) is a feast of world-class dance, theatre, music, visual arts and outdoor events, offering everything from a stunning modern ballet with music composed by Jamie xx to an epic journey through centuries of pop music, performed over 24 hours.
While you're planning your perfect Melbourne Festival, it pays to take advantage of the Festival Feasts program: a smorgasbord of special offers and express meals available to festival-goers. Deals range from complimentary cocktails to four-course feasts for $45, and all you have to do is show your ticket on arrival. The full list of feasts is below.
Check out our Melbourne Festival 2017 highlights hit list.
Festival Feasts eateries and bars
2
Show your Melbourne Festival ticket to receive a complimentary course upgrade for either lunch or dinner. Available Tuesday to Friday, noon-3pm and 6-8pm. Applicable for a three-course lunch upgrading to a four-course lunch, and six-course dinner upgrading to eight courses. Only includes food menus, no beverage included in offer.
Read more
3
Enjoy Cumulus Up's signature dish of duck waffle, fois gras and prune with a glass of Bellvale pinot noir from Gippsland for $15.
Read more
4
Get spaghettini with spanner crab, lemon, chilli, parsley and pangrattato with a glass of wine for $30.
Book now
Read more
6
Present your Melbourne Festival ticket to receive any of Arbory's burgers (mushroom and halloumi, double cheeseburger, fish and chip burger, and southern fried chicken) plus a schooner of Arbory American Brown Ale x Mountain Goat Brewery for $20.
Read more
7
Melbourne Festival-goers get a Pisco Sour and ceviche for $30 per person. Harley House will be open late during the festival for drinks and supper.
Read more
10
Present your Melbourne Festival ticket and get the $40 express lunch offer (includes the Bend Over Box) with a glass of wine or beer and tea or coffee to finish. For dinner, take advantage of the two-for-one offer on their signature cocktail list. Lunch offer available from noon-3pm, dinner offer available Monday to Friday between 4-6pm.
Read more
Show more