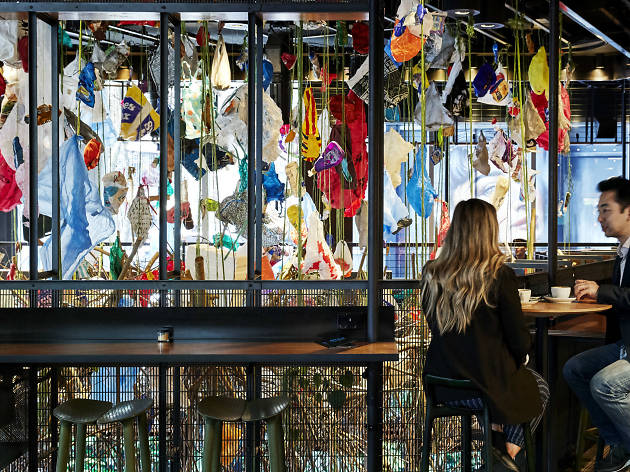 Mercedes Me is going sustainable with Joost Bakker and Returnr
Mercedes Me has scored one of Bakker's powerful installations to coincide with its new reusable cup scheme
We've all been there: you go to order a takeaway coffee only to realise you've left your reusable cup at home. Do you go without the coffee (risking caffeine withdrawal), or do you carry around the guilt that you're contributing more waste to landfill? Well Mercedes Me are all too familiar with this scenario and have decided to take a stand.
From September 9 to September 20, Mercedes Me will host a bespoke installation by environmental warrior Joost Bakker that cuts right to the heart of Australia's (and the world's) plastic crisis. Bakker's installation combines 130kg of plastic waste collected from throughout Melbourne (130kg is the average amount of plastic used by each Australian every year) with tree branches to reflect almost literally the impact of waste on our environment.
While the powerful installation will only be in store until September 20, Mercedes Me's commitment to more sustainable café practices will continue long after its gone. Mercedes Me along with its coffee partner St Ali will be one of the first cafés in Australia to completely ditch takeaway cups and replace them with Returnr cups – a sustainable alternative.
Returnr is a little like a rent-a-cup system. If you forget your reusable cup you can pay a $6 deposit and borrow aReturnr cup, pay for your coffee as usual, then when you return your cup to Mercedes Me (or any other participating café) you get your deposit back. Plus Mercedes Me is certified as a carbon neutral venue – meaning the venue offsets its carbon emissions each year through environmental projects.
Joost Bakker's installation can be viewed at Mercedes Me until September 20. Returnr cups are available at Mercedes Me now.
Best selling Time Out Offers