My Dad Wrote A Porno Live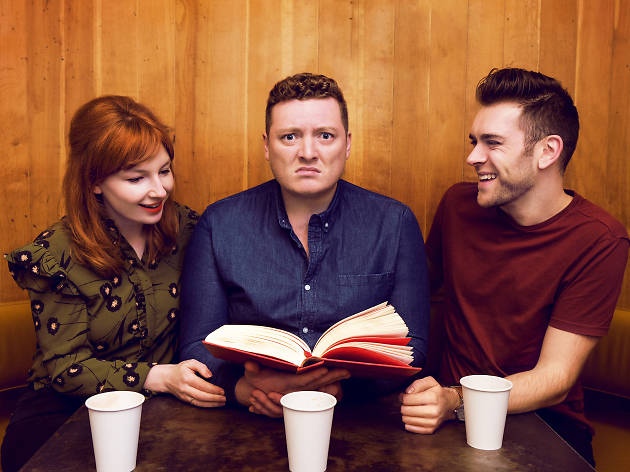 The brains behind this ridiculously funny podcast are coming to Australia for a night of squeamish good fun
UPDATE: due to popular demand, an extra show has been added to the Melbourne leg of the tour on Thursday August 17. Tickets go on sale 10am, Friday March 3.
What would you do if you found out your dad wrote a porno? Would you ignore its very existence? Would you bring it up with him? Or would you, say, create a podcast with two of your friends and read out chapters to the wider world? Let's just say, Jamie Morton made the right decision.
The My Dad Wrote A Porno podcast is like a filthy book club, where listeners get a section of the devilishly funny Belinda Blinked erotic novel dissected by the author's incredulous son and his friends James Cooper and Alice Levine.
Jamie's 60-year-old father (who – no joke – penned the book under the moniker Rocky Flintstone) was sincere in his approach to later-in-life self-publication, but the resulting novel is a trainwreck of clumsy and weird descriptions of sexual situations, with a vague plotline about the goings-on in the super sexy world of pots and pans sales. Basically, it's a disaster – but a disaster filled with spit-take worthy prose.
Launching in 2015 with readings from Rocky Flintstone's first book, the series has been a runaway success, boasting 50-million-plus downloads worldwide. After the release of Belinda Blinked 2 halfway through last year, the My Dad Wrote A Porno team has decided to take the show on the road with a series of live readings hitting Australia in August.
The My Dad Wrote A Porno live show is headed to Melbourne's Athenaeum Theatre on Friday August 18, with hosts Morton, Cooper and Levine promising a night of squeamish good fun.
Tickets go on sale 10am Monday February 27. Don't forget your pomegranates!