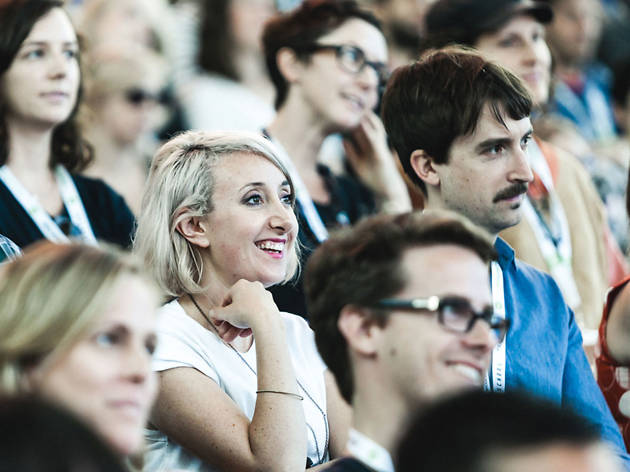 Pause Fest released yet another speaker announcement... and it's a doozy
Pause Fest returns this year with a line-up of panel discussions, keynote talks, workshops, and exclusive experiences over three days, giving you the kind of career inspiration that cannot be Googled. Tickets are also selling fast, so check out the latest speaker announcement and get access to the biggest brains in your industry.
The latest wave of speakers is chocked with industry insiders like Kate Richardson (head of strategy at Red Engine SCC), Pete King (executive producer at The Mill), Monica Wulff (CEO of Startup Muster), Andrew Hyde (founder of Startup Weekend), Iain Nealie (creative director of Google Sydney), and Kate Cornick (CEO of LaunchVic). Other previously announced key speakers include industry experts from NASA, Deloitte Digital, Etsy, Code Like a Girl, and IBM.
Pixar's character supervisor Brian Green, one of the guys behind your favourite animated characters, will be heading a talk on the evolution of Pixar's characters, he'll give insight into how advances in technology have improved their relatability and realism (apparently Brave's Princess Merida's flowing red hair took Pixar researchers over three years to perfect). In his 20 years at Pixar, Green has overseen the creation of films including Toy Story 3, Ratatouille, Finding Nemo and Monsters Inc.
Other speakers span creative, tech and marketing industries and beyond. Marketing nerds will jump at the chance to see Jim Antonopoulos, director of design company TANK, open up about his approach to 'human-centred design and brand development'. Other speakers include Etsy COO Linda Kozlowski, Pozible co-founder Rick Chen and CEO of Beattie Wines, Georgie Beattie. Visit the website for the full list of speakers.
The program is also getting better with every announcement. Girls in Tech are set to present a talk on 'Do Tech and Empathy Work Together?', while Clemenger BBDO Melbourne will explore 'How Digital Can Transform Customer and Brand Experiences'. Finally, learn 'How to Make Ideas Happen' with LucasFilm.
This year's event will be broken up into Creative, Tech and Business days. Each day will home in on new ideas and innovative technologies relating to their titular topics. On Wednesday February 8, Pause Fest is focusing on the intersection of creativity and technology, and how creatives are redefining the process of making ideas tangible.
On Thursday February 9, Pause Fest will be focusing in on technology and exploring the consequences, risks and endless opportunities that follow progress. Finally, it's all about business on Friday February 10. Keynote speeches and panel discussions will be exploring how moments of change in the digital world can define a business, and how the old and the new might exist in tandem. Of course, don't miss the Pause Fest opening and closing party for a chance to rub shoulders with the your industries' best thinkers.
As well as talks, Pause will be bringing a line-up of innovative tech experience from Tesla test drives to the world's first virtual reality Tilt Brush competition by top Melbourne graffiti artists, curated by Backwoods Gallery.