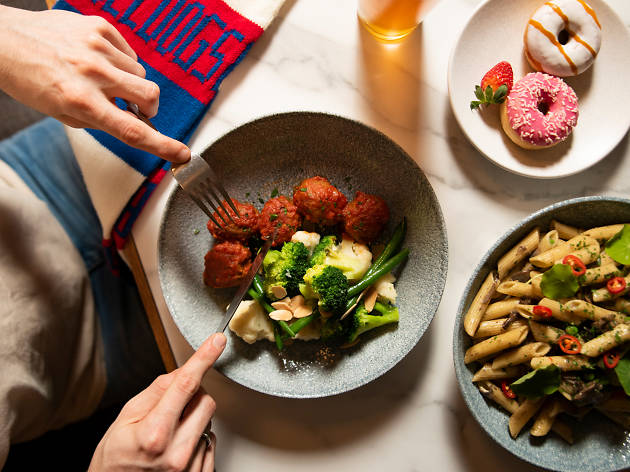 Score a footy lover's feast every MCG match day at the Cliveden
Fuel up before or after the footy with this treat-laden feast
There's no escaping the fact that in Melbourne the footy season means winter, and winter means cold, blustery days at the MCG. But locals embrace the chilly match days with gusto, rugged up in footy scarves and half-heartedly eating soggy yet scaldingly hot meat pies. As it turns out though, your match day dining need not be restricted to overpriced, oversalted tuckshop food.
Just over the road from the MCG lies the Pullman Hotel, and boy does its restaurant and bar know how to whip up a footy lovers' feast. Every day that there's a game on at the 'G, in-house bar and restaurant the Cliveden hosts a feast that's perfect for fueling up pre or post-match.
You'll want to loosen your belt a few notches before you get started on this mighty menu created by executive chef David Albert. The Cliveden's winter feast features gourmet sausages, grilled chicken thighs, slow-cooked meatballs with passata and a roast beef carvery complete with homemade gravy, mustards and condiments.
Footy fans on their way to or from a match at the 'G will also get plenty of sides, including jacket potato wedges, freshly baked rolls (plus herb and garlic bread), three types of soups and new potato salad. There's even something for the footy-loving veggo with a vegetarian pasta and pizza (you can also grab a slice of supreme or pepperoni pizza too). And just like at the MCG, the Cliveden offers fresh doughnuts (jam-filled or iced) as a sweet snack.
The footy lover's feast at the Cliveden Bar and Dining is available every MCG match day from 5.30pm and costs $39 per person. Visit the website for more info and to book a table for your crew.
Best selling Time Out Offers