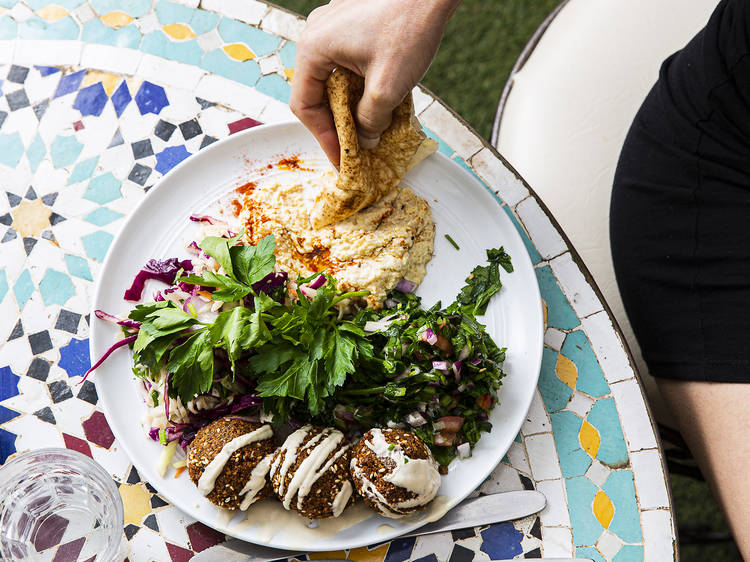 Photograph: Parker Blain
Advieh (71B Gamon Street) is a local favourite, whether for a lazy long brunch with friends or some urgent home delivery when you're hungover. Everything at this Middle Eastern café feels lush and wholesome. Their halloumi fries (with yoghurt sauce, pomegranate seeds, pomegranate molasses, mint and a wedge of lemon) are a must-try.
There have been lots of heated debates about the best kebab in Greater Footscray and after much testing and deliberation, Seddon's Brotherhood Yiros + Grill (in the back of the Christian Orthodox Brotherhood building at 99 Buckley St) takes the prize for the lamb category. The lamb is tender and well-seasoned, the homemade pita bread is pillowy-soft, the sauce is on point. They're also delivering during current restrictions.
Several Seddon locals recommended organic bakery Sourdough Kitchen (172 Victoria St) for bread and pastries. Robert from Seddon Book Alley particularly likes their pumpkin bread, which keeps well and is great for carrying other flavours. They're open for takeaway at the moment.
Luxsmith (5 Gamon St) is, as the name suggests, a wee bit luxe. The restaurant serves up a mix of Asian cuisines that might sound a bit confused on paper – Kerala fish curry, Korean beef cheeks, pad thai, har gow – but it works. The crispy miso Brussel sprouts are a flavour bomb of caramelised goodness and the beef cheek is melty and satisfying. Luxsmith changes its menu seasonally so get your fill of your faves before they disappear. They do delivery, with discounts if you order for pick-up directly instead of through the apps.
For classic chicken and chips, another local hero is McManos Chicken Bar (99 Charles St). Dave Chen's deep-fried crinkle-cut chips are a cult favourite, even coming first place in a 2019 list of best hot chips from radio station Nova. The shop's retro signage is also worth checking out. The whole experience is nostalgic in the nicest way, reminding us of family road trips in the days when Corona was just a model of car.
Try crunchy tiger bread rolls which sell out in a matter of hours at Seddon Eatery. Better yet, get the best of both worlds by asking for a barbecue pork banh mi. The rich, juicy layers of pork, spring onion and pickled carrot are soaked up by the roll to provide an experience you'll wish will never end. There's also fresh rice paper rolls and hot pies available to be purchased too.
For a proper sit-down meal head to Copper Pot. The flavours of each dish will whisk you away from Seddon and transport you to somewhere in Europe. The venue champions seasonal, local produce, so the part of Europe you're arriving in will change. It also offers takeaway meals with each day having a different theme. Expect a contemporary and refined take on pub classics with meals designed to enjoy at home, and a gastronomic experience when you dine-in.