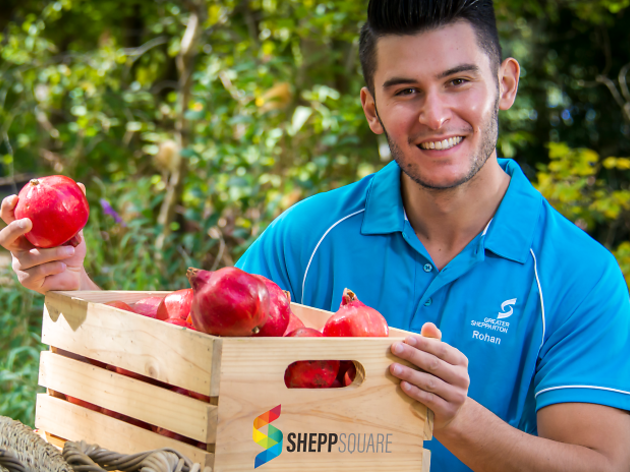 Shepp Square moves into Fed Square
Experience a snapshot of Greater Shepparton in the centre of the city
This April, Federation Square will transform into Shepp Square, with two weeks of food, fun, family activities and free seminars.
Kicking off on Monday April 9 and taking place every day until Friday April 20, the activation will showcase Greater Shepparton and its dynamic food and drink scene, agricultural offerings, tourism drawcards and more.
The event will be centred around the Bar and Bites pop-up bar and Market Square. Here you'll be able to get a taste of what Shepparton is all about, including its sprawling orchards, which produce some of Australia's favourite ciders. Enjoy a cold glass of Cheeky Cider, Cheeky Cherry Cider, Foxy Dabinett and even a cider slushy. Boutique wineries Tallis and Longleat Wines will be there alongside Furphy and Dainton Beers. There will also be tapas and snack menus that show off the region's expansive produce offerings.
Every day Shepp Square will take on a different theme, including multiculturalism, art and sport. Greater Shepparton is responsible for 25 per cent of Victoria's fresh produce and this will be celebrated with two dedicated days on Monday April 9 and Saturday April 14. Shepparton's potential for investment and employment will be explored in a series of seminars held on Thursday 19 April in Deakin Edge. These events are all free to attend.
Taxi Kitchen's executive chef Tony Twitchett will also host a special ticketed paddock-to-plate lunch on Wednesday April 18. The long outdoor lunch will showcase more of the region's food and drink culture across four-courses (including matched wines, beers and ciders) with tickets starting at $95.
Best selling Time Out Offers