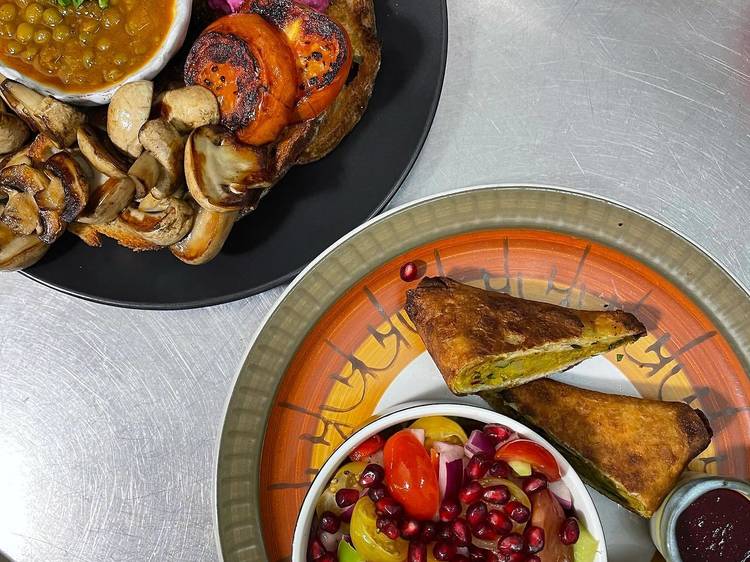 Photograph: Supplied
There's a large Vietnamese community in Sunshine, and with that comes a variety of exciting Vietnamese restaurants and food. Lan Anh Bakery (195 Hampshire Rd) is just one of them, and it's known for its banh mi. This isn't purely a grab-and-go spot, but a destination where you can take a seat as you inspect the goings-on of Sunshine. Grab a fresh sugar cane juice and a roast pork belly roll (our hot tip) or opt for other usual protein-laden suspects like grilled chicken with all the trimmings.
Sunshine Social (64 Glengala Rd), located in a former service station, serves up a canny mix of smoked meats, fat chips and a fridge full of craft beer. Don't miss the dessert either, which has you choosing from hot Belgian waffles with your choice of topping (our pick is the candied sour cherries). There's also a beer garden for the kids to run wild in.
If you're more in the mood for a piping hot bowl of phở, head to Phở Hièn Saigon (3/284 Hampshire Rd). The menu is limited but it becomes very obvious you should really go for the soupy star of the show. There's the option to try a "baby" sized soup, crisp spring rolls loaded with prawn, pork, or vegetarian if you swing that way, as well as noodle soups showing off sliced chicken, beef or offal and bún chả – vermicelli noodles topped with things like sugar cane prawn or grilled pork with pickled carrot and spring onion.
Try out Persian brunch foods at social enterprise café, Café Sunshine and Salamatea House (21 Dickson St). The café is co-owned by chef Hamed Allahyari who escaped Iran by boat in 2012 and arrived in Australia as a refugee. He made it his mission to provide employment opportunities and support to refugees and asylum seekers, and this is what he does at his venue now. Order omelette dotted with feta, Persian-style bliss balls loaded with spiced dates and nuts, different dips like creamy hummus and herbed labne and more.
Sunshine also has you covered on the dessert front with its very own Dairy Bell store (T45/328 Hampshire Rd, Sunshine). It's a longstanding ice creamery brings back a lot of nostalgia for those who grew up in the '80s and earlier. The venue dishes up moorish, creamy scoops of ice cream in flavours like Mars Bar, Cherry Ripe and classics like hazelnut or zesty, fruity sorbet. Get a takeaway tub that you can enjoy at home or doughnuts and kitschy banana splits.